Art Gallery
Welcome to our Art Gallery - over the years we have had several paintinigs of our dogs completed, our first painting was of our first German Shepherd, this was painted by world renowned wildlife artist Eric H. Peake, we also had painting's done of two more of our home bred German Shepherds. Our first painting of our Bernese was of our first male, Oska and first female, Tascha, they were painted as a pair by the well known canine artist Robert J. May. We also had two head study picture's painted of our Bernese Madi and Heiko in 2000 by artist Helen Lake from Cheshire.
Since then we have had four further paintings done by Carol Pontin who loves to paint Bernese, she has completed commissions for owners of Bernese in several countries and often supplies her work to America. At the present time we have four painting's Carol has completed for us, all her paintings are done from photographs, the first is of our Norwegian male Geilo, he is six months old in this picture, the photograph was taken on the farm in Norway where he lived. The second picture of of our late female Jorka, she was a daughter of Madi, the picture of Jorka is a beautiful head study with a frozen waterfall in Switzerland. The third picture is of our beautiful girl Madi, 'Staubach Blaue Wasser Falle" who died in December age 10.5 years, this painting is done from a photograph taken of Madi in May 2009 at our friends home in Norway when we were there for the Norwegian Club Show. We have now received our fourth picture from Carol, this is of Madi's daughter Jodi who died on the 24th February, we received the new painting in June and are once again delighted with the likeness and quality. We have included the actual photograph's we sent to Carol for each painting so you can see how well she has captured the likeness's of all the four dogs she has painted.
If you are interested in viewing Carol's work, please click on the following link high lighted in blue to take you to her web page address, www.carolpontin.co.uk You will see that Carol has painted many Bernese as well as other breeds and subjects, many of her pictures are available as Limited Edition prints. We are very happy to recommend Carol to you if you are wanting to have a painting of your Bernese or any other animal's.
All four painting's of Geilo, Jorka, Madi and Jodi on this site are the copyright of the artist, Carol Pontin. Their use, copying or distribution in any form is strictly prohibited unless a signed and dated copyright release form is granted by the artist through the Low Burnham Studio.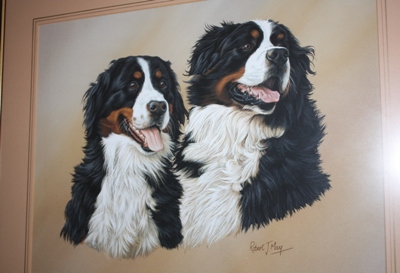 Tasha and Oska by Robert J May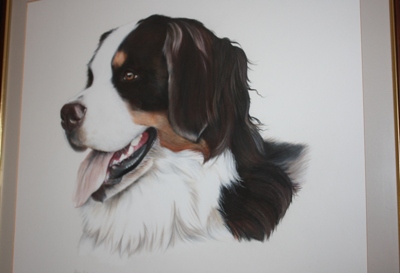 Madi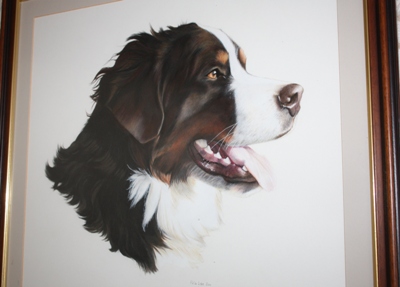 Heiko
.