Germany 2010
We had a great time at the DCBS Club Show (Deutscher Club for Berner Sennenhunde) on Sunday 16th May, the show is held every three years and is held in Rieden which is in south east Germany, about 50 miles from the Czech border. We left home on Wednesday and arrived in Rieden on Thursday after a drive of 894 miles through some very beautiful countryside and scenery.
The venue for the show was one of the best we have been to, our accommodation was a self contained high class apartment at the complex, the complex was for horse events both inside and outside with cross country events stretching for miles over the beautiful countryside of forests and meadows.
On the Friday evening we attended the Club's BBQ and on Saturday evening we went to the Clubs Official Dinner where there were about 175 people in attendance, we were joined on our table by our very good friend, Martha Cehr's from Switzerland (KBS President) also there was Lindy Kunz and her husband from Austria and Marion Brown from South Africa along with some German friends. We were made very welcome by our hosts and after the meal Jill and I were invited onto the stage by the DCBS President Herr Hans Jahrling. We were introduced to everyone, as he spoke very little English Lindy Kunz translated for us. The President thanked us personally for attending the show and hoped we were having a good time in Germany, he wished us success at the show and hoped we would have a good day and return again.
We thanked Herr Jahrling for the kindness and hospitality of all the members of the DCBS and said we looked forward to returning again to the next show in three years. Before leaving the stage on behalf of the club and members Herr Jahrling presented us with a Special Trophy.
When we arrived at the show venue on Sunday morning as with many shows on the Continent all the dogs had to be seen by the vet on duty, she checked all their Pet Passports and inoculations and a visible health check on all dogs before they were allowed inside. We had to arrange to see her before 12.00hrs for their treatment to allow them back into the UK. We had to go to the ring steward for our ring numbers, we also had to leave our dogs Pedigree's when we checked in, in Germany all show results are written on the dogs pedigree with the name of show, date, placing and name and signature of the judge.
The standard of the show was in all aspects excellent, there is so much breed clubs in the UK can learn from other countries, at this show we saw the best show catalogue we have ever seen, it was A5 size, spiral bound, clear plastic cover, some colour pictures, laid out very well and easy to read. In each class all the information on the dog entered was printed in one box, no need to go searching through the names at the back to see who the parents are or who the owner and breeders are. Unlike our breed and shows the catalogue was included in the entry fee, there were no parking charges and every exhibitor received a special gift.
We were very pleased with our show results for the DCBS Club Show, the judges were - Herr Walter Schicker and Frau Gisa Schicker, Martha Cehrs (Switzerland - KBS President) translated our judge's critiques for us, here are the critiques for Geilo, Joker and Steffi:
Geilo: Open male - Graded Excellent - 3rd - 16 in class - Strong and strong boned, typical head with masculine expression, strong stop, carries ears high. Slightly round skull, well developed depth of chest, sufficient angulation in front. Well groomed and typical coat for the breed, friendly temperament, scissor bite, moves covering sufficient ground.
Joker: Intermediate male - Graded Excellent - 3rd - 5 in class - Harmonious build, strong correctly proportioned head with masculine expression, eyes dark brown and almond shaped, carries ears average height, strong back (line) with matching chest width. Correct stance, shiny coat typical for the breed, straight back, convincing movement.
Steffi: Intermediate female - Graded Sehr Gut - 2nd - 5 in class - Friendly and calm, typical head, dark brown round eyes, carries ears high, correct neckline, straight medium strong back (line), straight front legs, depth and width of chest in accordance with her age, still soft in pastern/wrist area.
For more information view the DCBS homepage on the following link:
www.dcbs.de
We must apologise that there are no pictures of Geilo and Joker receiving their trophies, we had put the dogs in the van and were getting packed ready to leave for our drive home when we were told there was a Presentation of trophies. We could not get Geilo and Joker from the van in time for their respective class awards, we only had time to bring Steffi for her class, we will take some pictures of Geilo and Joker with their trophies and add them to this album.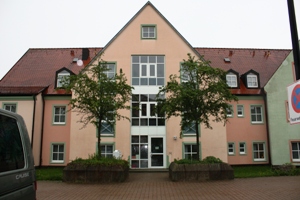 Our Apartment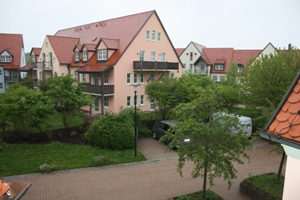 Rear view from our kitchen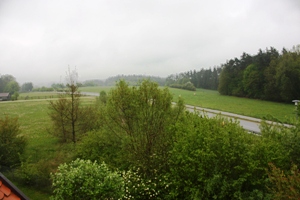 Front view from our living room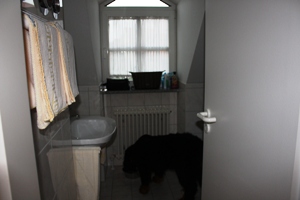 Bathroom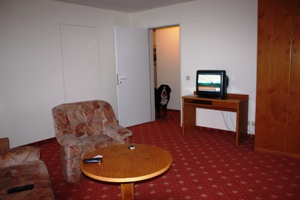 Living Room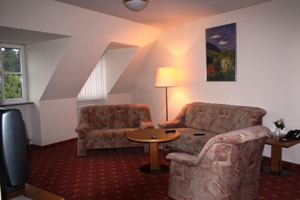 Living Room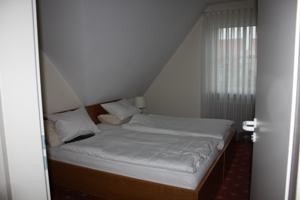 bedroom 1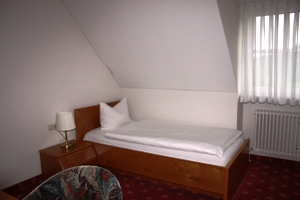 bedroom 2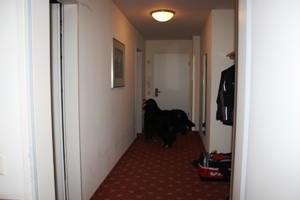 Hallway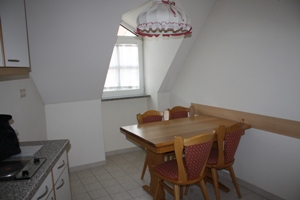 Kitchen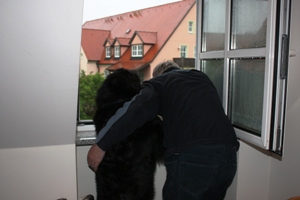 Ian and Elkie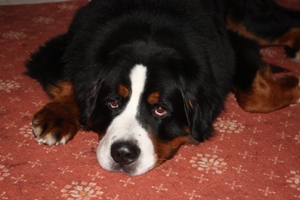 Joker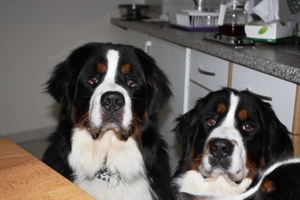 Joker and Steffi
Three Little Angels!!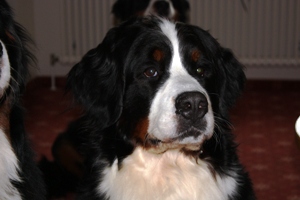 Elkie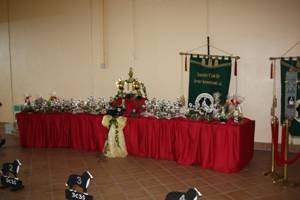 Club Trophy Table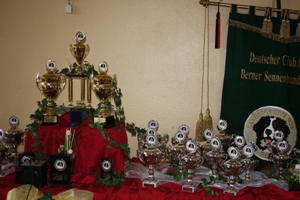 Trophies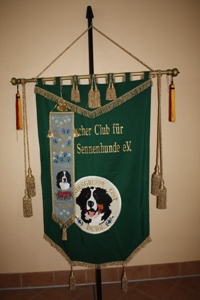 DCBS Club Banner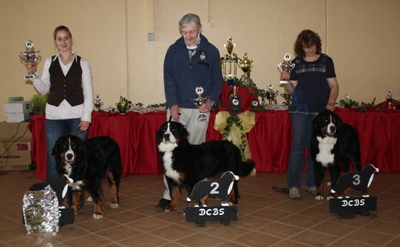 Steffi 2nd - Intermediate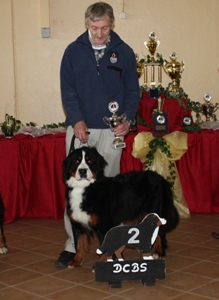 Steffi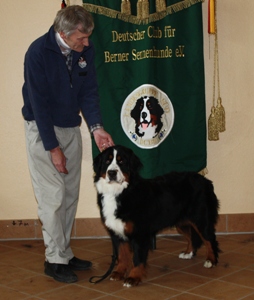 Steffi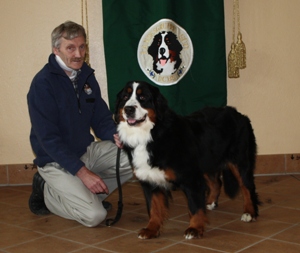 Steffi