**New Book**
CONGRATULATIONS - CONGRATULATIONS
DOG WRITER'S ASSOCIATION OF AMERICA
This book was nominated for an award by the Dog Writers Association of America for 2011. It was nominated under the section 'Books for Single Breeds', the Association recieved 10 nominations in this catagory, it has been selected in the final three. Silvana attended the Awards Ceremony in New York in February 2012, she was delighted that the book has received such a nomination from the D.W.A. of America. Also at the Awards Ceremony with Silvana was her good friend Lindy Kuntz from Austria who assisted her with the work and the English text for the book.
'The Bernese Mountain Dog Yesterday and Today' was presented with the following awards:
(1) Best Single Breed Book
(2) The Dogwise Best Book Award (Chosen from all the Group Winners)
(3) Pro Plan Presidents Award (This is the Best in Show Book, chosen from all the winners of the individual catagories)
To win one award for the book was excellent, to win three awards was fantastic, especially for an overseas author who is not English. The book has been received well in all English speaking countries around the world. We think the three awards are unique for a book on the Bernese Mountain Dog.

Here is a link to the Dog Writers Association of America. http://dwaa.org/writing-category-nominees-regular-2011.php
Just scroll down to BOOKS, 1. SINGLE BREED
------------------------------------------------------------------------------------------
'THE BERNESE MOUNTAIN DOG YESTERDAY AND TODAY'
A very exciting new book on Bernese Mountain Dogs by Silvana Vogel Tedeschi, an Italian breeder and exhibitor, as well as Vice-President of the Italian Club was published in September 2010, we are distributing the book in the UK for the author. Details about the book are available on the following website http://bernese.biz/bernerbook.htm (click on red link). Here you will find further information including a list of contents, the author´s introduction and a foreword by Margret Baertschi and Hansjoachim Spengler. We have a limited number of copies available that have been personally signed by the author.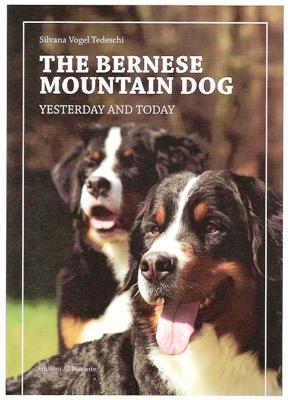 The Bernese Mountain Dog
Yesterday and Today
by Silvana Vogel Tedeschi
English Text by Lindy Kunz
336 pages, in full colour
Size cm 16.5 x 23.5 x 2.4 Weight 990 grams
The cost of this high quality book is £28.50 + £2.80
package and postage,
total £31.30
Please forward your order with cheque made payable to: Ian Instone
also available to purchase on Amazon website
3 BARKSTON AVENUE
THORNABY ON TEES
TS17 0LE
Tel: 01642 762185
__________________________________________________
Book Review by: Keith Creasey (Alphanova Bernese)
This new book on the Bernese was written by a breeder and show exhibitor from Italy who has shared her life with the breed since 1987 and is Vice President of the Italian Club. I have recently read the book and have been asked to give a review of it which I am pleased to do so as follows.
Chapter One covers the historical development and establishing of the breed in Switzerland while the next illustrates how the breed standard has evolved from 1907 to the 2003 amended FCI Standard. Both offer a thorough and interesting insight into how our breed got to where it is today and how it developed from the rather plain looking dog it originally was.
For me however it is the next three chapters that provide the meat of the book. The first of these, "Interpreting the Standard" contains a very well written detailed analysis of the FCI breed standard. It describes the BMD as sturdy but agile however at the same time it emphasises that sturdiness should never be over exaggerated to compromise agility and likewise agility should not be overrated at the cost of sturdiness. This sets the tone for a balanced debate throughout the book as well as the overall emphasis on balance and harmony that the writer feels we should be placing on our breed above other things. An interesting example is also given of how one renowned judge of BMDs' describes the tail as being the window of the whole back. The chapter contains diagrams and drawings to show amongst others, the skull-muzzle ratio and how and why Bernese should have tight cat like fore feet. The writer describes that in general a large number of Bernese do not have enough hind angulation which has a negative effect on length of stride and movement but also acknowledges that carting dogs would have benefited from straighter hind angulation.
In the next chapter "Temperament and Behaviour" or "Character" however one may read it, the word balance once again comes to the fore when describing how the mind of a Bernese needs to combine strength with softness to fulfil its role as a guard dog, draft dog and a farm dog. I found it rather amusing to see mentioned the anecdote as to many cups of coffee having been spilt by "the Famous Berner Nose Bump". The last of these chapters is "Considerations on Conformation and Breed Traits". This basically is an even more in depth discussion on certain points of the breed standard and common faults. The section on Topline particularly caught my eye. It is short and sweet but says a lot. It is so short because as the writer suggests a faulty topline alerts us to constructional faults but which ones we need to work out for ourselves.
After this, maybe the book runs out of steam a little but only because in the later chapters it returns to subject matter which many of us have probably had as much first hand experience as the writer such as raising puppies and common ailments. Nevertheless these are covered more comprehensively than I have seen before. The book concludes with the translated version of Albert Heim's short book "Die Schweizer Sennenhunde" which really gives a great sense of history about our breed.
This is not a book that flows easily and there are a lot of historical references which take time to digest and as I progressed through it I needed to refer back regularly which isn't a bad thing. May be it is a little repetitive in places which may in part be due to translation, but it was refreshing that the writer didn't feel the need to make reference to successful show dogs or kennels. I would particularly commend this book to anyone with ambitions to show, breed or judge both specialists and non-specialists alike including those that already do. It is certainly one that I see myself often making reference to in years ahead. "The Bernese Mountain Dog - Yesterday and Today" is a translation and a worthy addition to those publications we already have on our breed and in time maybe we will all be grateful that it will have opened our eyes about our breed and put it back on the right track.
Author's Comments: I am honoured and pleased that he has noticed a couple of things that are particularly important for me: the historical background and the stress on balance and harmony for both conformation and temperament. He understood perfectly what I wanted to convey to the readers, this is a good feeling for me. I'm very happy with this review.
------------------------------------------------