Janka - A Tribute
2nd December 2011 - It is with great sadness that we must tell you that today we had to give sleep to our beautiful girl, Janka, Dale Gudbrand's Janka CaCh at Staubach. To say we are both devestated is an understatement, she was only 4 and a half years old. Six weeks ago we noticed that she had 3 lumps, so we took her to the vets to get them removed and whilst 2 were OK, the third one was malignant. As she started to deteriorate we took her for further tests, two weeks ago and they found further tumours in her liver, there was nothing that could be done for her. So we brought her home to enjoy her last days with us and the rest of the Staubach gang. To say Janka was lively doesn't do her justice. She was so full of life and loved everybody and everything, one of the reasons we didn't show her was because when the judge went to go over her, she thought it was a game and rolled over on her back kicking her legs! I remember last year we took her with us to visit our friends Barbara and Pauline, who are both carters. Pauline asked if we wanted to have a go with her pulling a cart - we both looked at each other and said "Janka won't pull a cart , she'll think it's a game and take off with it". Pauline said "go on give it a go she will be fine". So we hitched her up to the cart, Ian had hold of the lead and off we went down the road - she was perfect. Ian said "well I'm stunned I thought she would have taken off with it" - what he didn't realise that Barbara, who was walking behind the cart, was hanging on to the cart for dear life to stop her taking off!! Janka was supposed to go on holiday to Switzerland with us this year, but the day before we were due to go away, she came into season and as we were taking Geilo with us, we had to leave her at home. Janka had a great personality, although she was qualified as a PAT dog, we couldn't use her as she was too lively with the children, we kept saying we will wait until she is older and calms down a bit. She will leave a big hole in our lives, as Bernese always do - there will never be another Janka RIP our beautiful girl.
Janka December 2010 - she loved the snow
,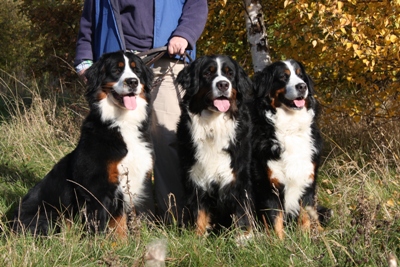 Steffi, Janka and Uschi October 2010
Hello -and thank you so much for letting me know. I am so sorry for your loss and I really feel your pain, I am sure you did all the best for Janka, and you must take care of all the good memories. (I know how it is to loose your best friend!). Line Loveland (Janka's joint breeder)
This is never nice, but there is never any reason to keep sick animals alive longer then nessersary. You did the right thing and I thank You so much for that. Stig Odenrud (Janka's joint breeder)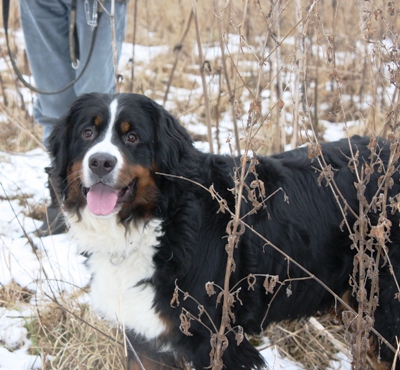 Janka - December 2009
Hi Ian and Jill: So sorry to hear the sad news, she will be missed, but at least her time with you was one of the best, she wouldn't have been cared for better by anyone else. Thinking about you all Angela and Grahame.x
Dear Ian and Jill: All our thoughts are with you at this sad time. Just try and remember the happiness she brought you and many others , and also the happy life you provided for her, as you do all your dogs.
Take Care. Lynn Baguley. (Beaumont Hill School, Darlington)
Hi Jill and Ian: So so sorry to hear your sad news and I know you will be in bits as Janka was such a lovely girl and also very young. Only consolation is she was well loved and had a lovely life with you with lovely walks to
enjoy with her other friends who I am sure will miss her as much as you will. Treasure your memories. From Barbara and Barry (Ellerton Bernese)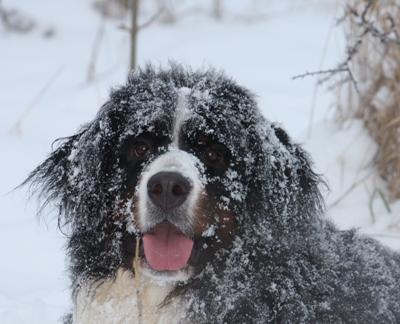 Janka - November 2010
Dear Ian and Jill: Just what can I say? you have had your fill of sad news recently. I know you will never forget this beautiful, happy, mischievous dog, but your memories will be precious and help you through. Thinking of you Love, Sally (Kinelarty Bernese)
Hello Jill and Ian: We are so sorry that you have lost your beautiful girl. It is never easy when you have to make that horrible decision. You can however take comfort in the knowledge that you did everything possible to ensure that Janka was given the best possible care and was given lots of love and hugs. We know it is not easy at this moment but think of all the good times you and the rest of the clan had with her. Thinking of you
at this sad time. Bob and Jackie (owners of Jura from our last litter)
Hi Ian and Jill: We are so shocked at your news, you know that Ade had a particular liking for Janka. She was so full of life and fun, it's so unfair that these things happen, especially at such a young age. We are so sorry for you all, she truly was a unique dog. Hopefully the other dogs will provide you with some comfort. It certainly makes us value what we have, the pleasure our boys are getting from Zak is priceless and hopefully that thought will bring you both some comfort and happiness too. Best wishes Jude and Ade (owners of Zak from our last litter)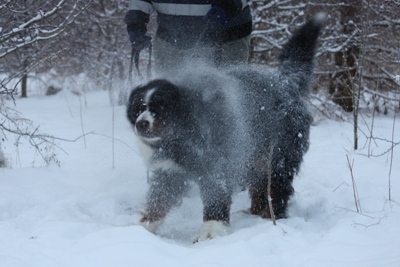 Janka - November 2010
Dear Jill and Ian: So very sorry and sad about Janka, I also had a good cry, could not ring you back. I am always going to pieces, it is so awfull, one so young, just like my Indy, she was only just over 4, but I don't know, what we can do about it. It does not matter, how may more you have it is always so terrible, our thoughts are with you both. Love Sonja and Reg (Glanzberg Bernese).
Hi Ian and Jill: The O'Donovan household is very sad tonight, we can't imagine how you both must be feeling.
Janka was the best and we are so sorry for your loss. Thinking of you at this terrible time. Talk soon. Pat, Majella and family (owners of Odin from our last litter)
Ian and Jill: We are so so sorry to hear about beautiful Janka. Thinking of you at this sad time. Take care. Karen and Roy Bull.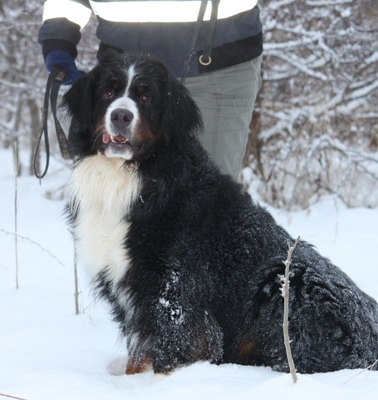 Janka - November 2010
Hi Jill and Ian: Sorry to hear your sad news, every dog is a part of you and it hurts when
they pass away. Ray and Sue (our friends from Tazmania)

Dear Ian and Jill: What sad news. You must both be heartbroken. She was such a super dog and full of life. Makes one realize you have to treasure every minute. We were so lucky to come up and see you in August and have that lovely walk with her. I had already put a picture of her in my Christmas letter. I will send you a copy when I get round to the cards. I don't think you could have had a prettier female - she had that look of Geilo. We were hoping to have had one of her puppies when it was time. She was so full of life. We are so so sorry for you both. Margaret and Peter (owners of Heidi)

Dear Jill and Ian: So sorry to hear about Janka, she seemed so full of life when we visited the puppies!! Thinking of you. Here's hoping the new year will be kinder to you all. Helen, Chris and the boys xx (owners of Yogi from our last litter)
Hi Ian and Jill: Sorry to read about Janka, she was a really nice dog, I think you have said it all in your update page. Thinking of you at this sad time. Dave Watson and family (owners of Jasmine from our last litter)

Hi Jill Ian and the paws: Our thoughts are with you, we so know how it feels. She was a lovely soul and I am sure will have touched a lot of hearts. Love to all Lynn, Derek ,Teddy and Merlin xx (owners of Merlin from our last litter)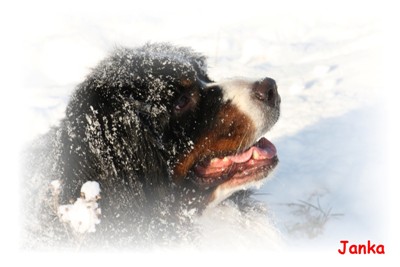 Ian, Jill and the gang: We are so sorry to hear your news. Makes me very sad every time I hear of a loss. Our hearts are with you. Love Pauline, Graham, Carlie and jack. (Tiggerifik Bernese, breeders of Elkie, first breeder to use Geilo)
Jill and Ian: Thanks for letting us know about Janka. Very sorry! She was so full of life and a lovely girl. It's hard to lose them when they are so young. Best Wishes Martyn and Pauline. (Engetal Bernese)
Hi Ian and Jill: We are very sorry to hear the sad news. Our thoughts are with you, Mona and Jeremy (Jezmona Bernese)

Hi there, so very sorry to see on your website that Janka has passed away, our thoughts are with you Doreen McKenzie