Week 2
Sunday 3rd April - Week 2
It is hard to believe that the puppies are already 1 week old. Steffi and the pups are doing very well, at this stage everything is going as we would wish. All the puppies have gained in weight and it will be interesting to see just how much, when we do the "weigh in" later this evening.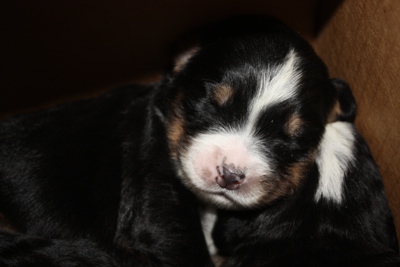 Monday 4th April 2011
The puppies were all weighed last night and we were very happy that they had all apart from two, put on between 9 and 12 ounces. The exceptions being a boy who had only gained 6 ounces and the smallest female, who had only gained 7 ozs - as she was only 12 ozs when born we wery very happy with her weight gain in the first 7 days.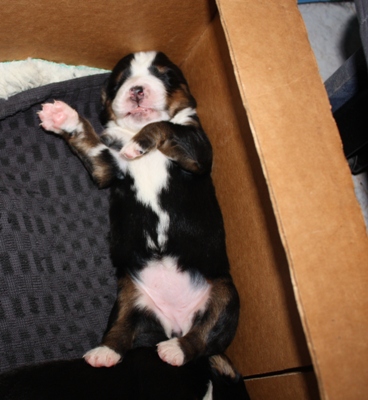 There are three puppies which like to sleep on their backs, they also like to feed this way too.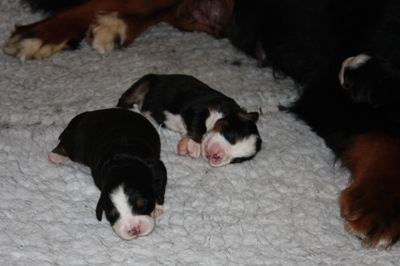 They are now starting to find their own space after feeding rather than all cuddle together.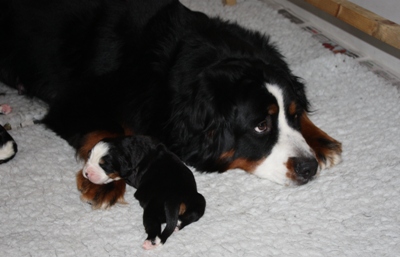 There is one little girl in particular who loves laying either on Steffis paws or next to her face.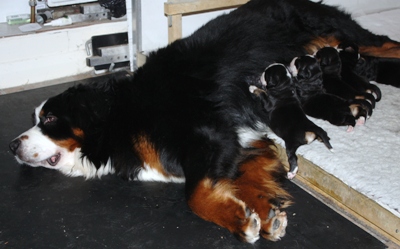 Steffi is just so laid back whilst she is feeding - as you can see she was half in and half out of the whelping box today - it must have been really uncomfortable.
The next pictures are just a selection of head shots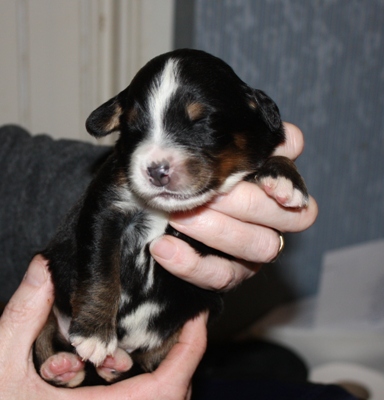 Dark faced little girl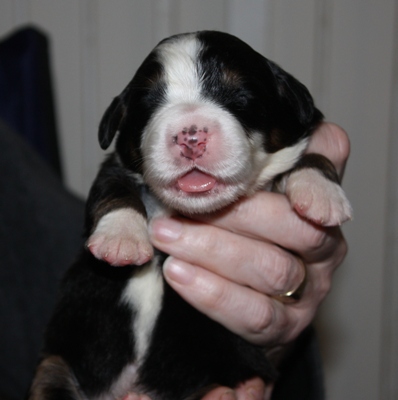 Male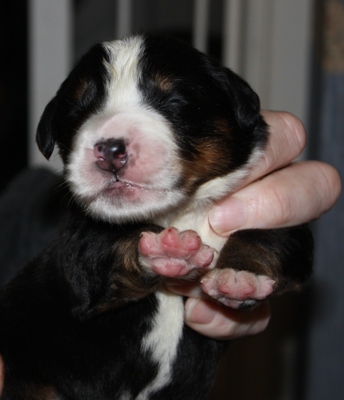 Male
Male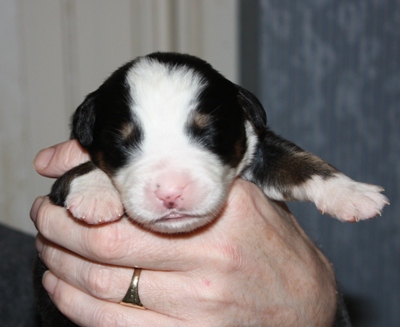 Female
Wednesday 7th April
Unfortunately Steffi has developed mastitis and we are having to bottle feed the puppies. They are all doing well and Steffi is a lot better today, however no time for photos at the moment.
Thursday 8th April
We have now established a new routine for feeding the puppies by bottle. We are feeding them every 3 to 3.5 hours. Steffi is doing her bit by cleaning the puppies after we have fed them. There is only one puppy that hasn't taken readily to the bottle and Steffi is feeding him for the moment.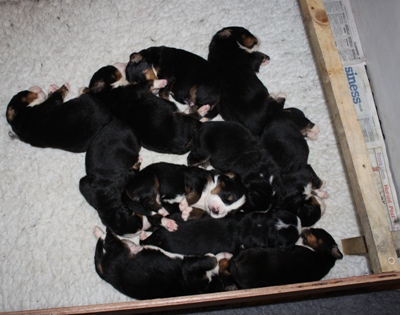 All eleven puppies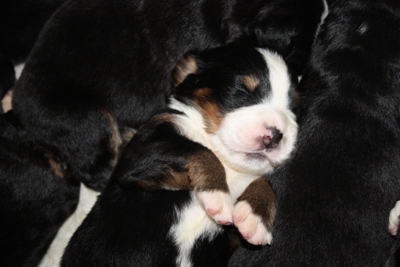 Asleep in the middle of the pack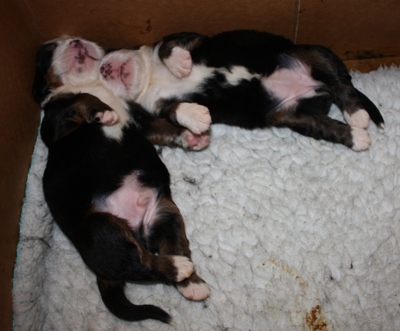 Brother and sister chilling out in a quiet corner!
Saturday 9th April
It is very busy here at the moment, you no sooner seem to have finished feeding the puppies and it is time to start all over again. We are now feeding every four hours and it takes 1 hour to feed them all.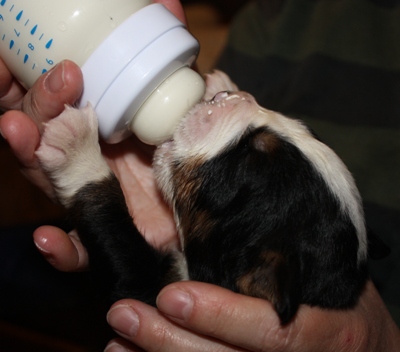 Steffi is no longer feeding the puppies all she is doing is helping out with cleaning them. She has been to the vets everyday for the last four days - her mastitis is very severe. She is still on antibiotics and is obviously in a lot of discomfort and not feeling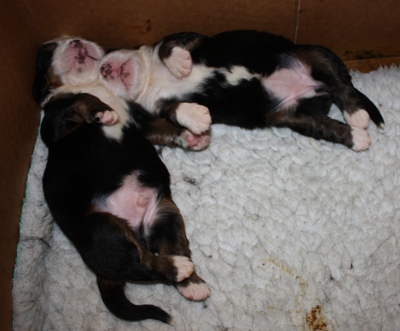 well. Hopefully, with the puppies not feeding the milk will start to dry up and she will be feeling a lot better soon. In the meantime Freya is keeping a very close eye on what is happening.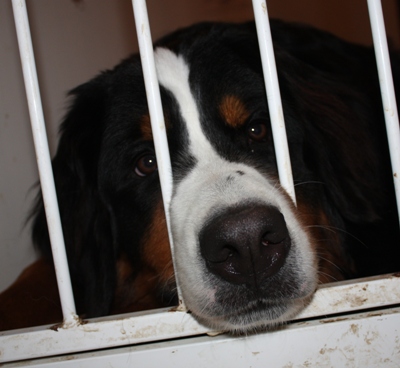 The puppies are all feeding very well and are obviously gaining weight.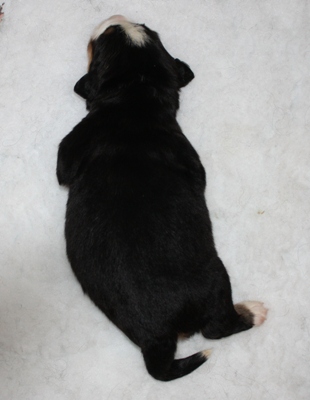 Their eyes have now started to open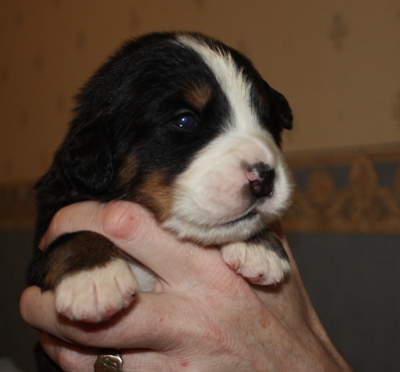 But they still like to sleep most of the time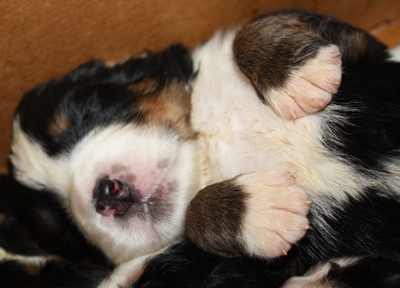 They are now starting to show more familiar characteristics of the Bernese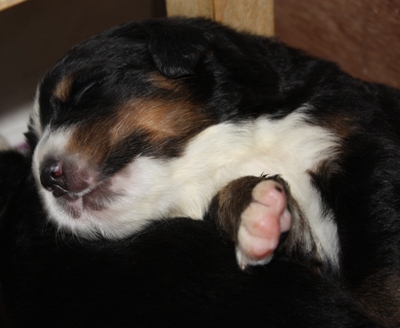 This next picture is one of the females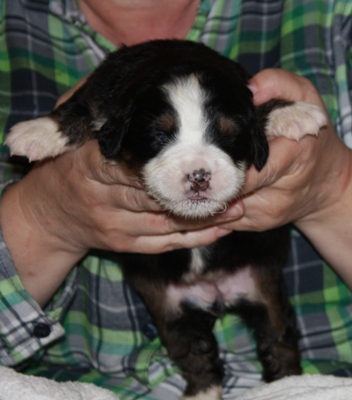 and one of the males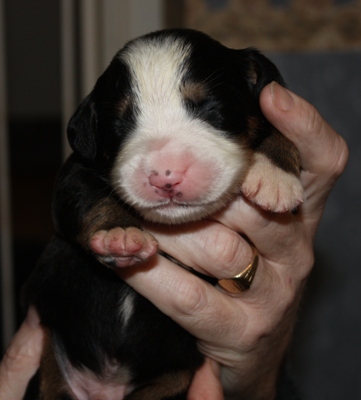 and then there is the one who always seems to be waving!