Week 3
Sunday 10th April 2011
The puppies are two weeks old today and so far so good. They had all gained between 8ozs to 1 pound 1oz when they were weighed today. The following two pictures show just how much the puppies change from birth to 2 weeks.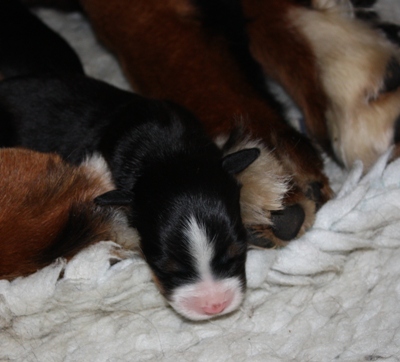 This picture is of the smallest female taken hours after she was born.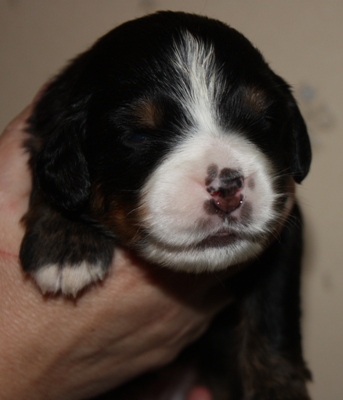 This picture was taken tonight 2 weeks after she was born. The difference is truly amazing.
Tuesday 12th April 2011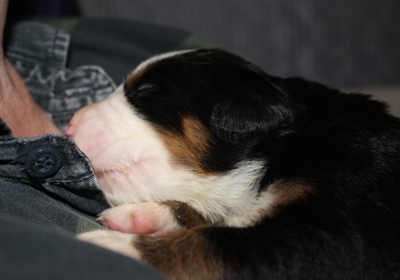 This little boy had eaten too much and had tummy ache. He was fast asleep on my chest nuzzling my neck for comfort.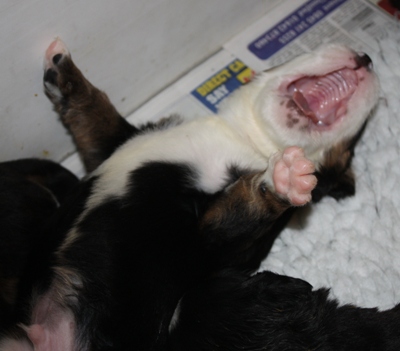 Male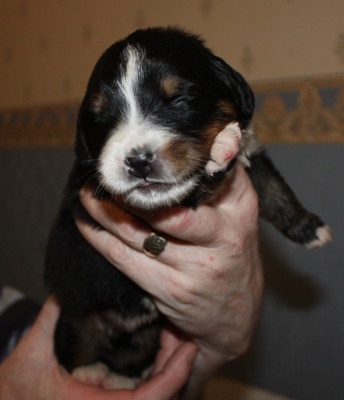 Female - 2 weeks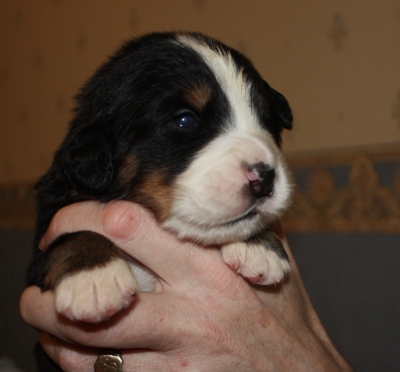 Female 2 weeks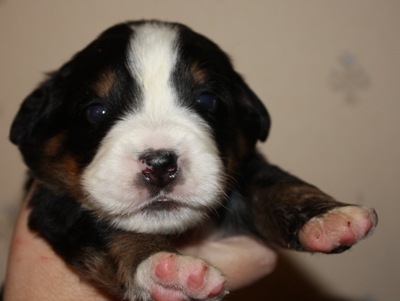 Female - 2 weeks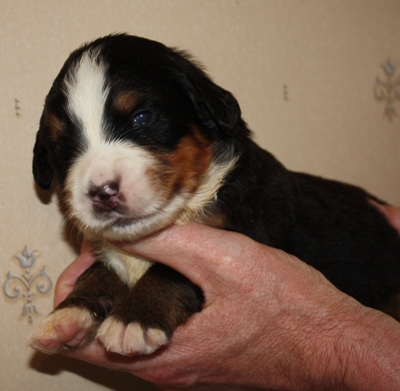 Male - 2 weeks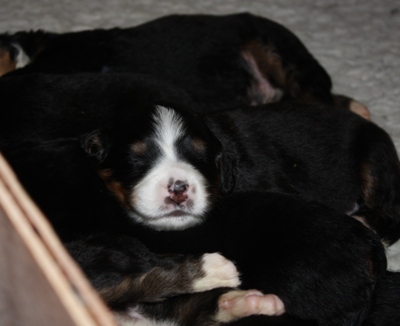 Female - 2 weeks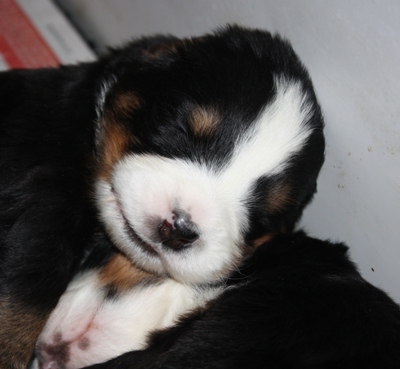 Female - 2 weeks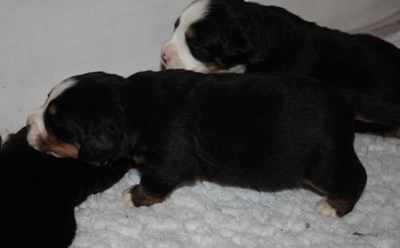 Male - 2 weeks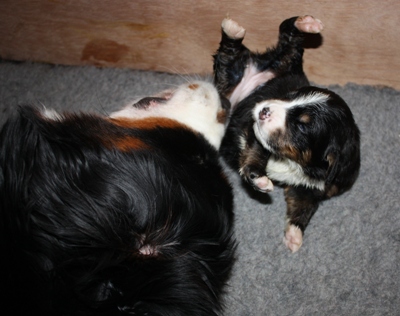 Steffi spin drying one of the females!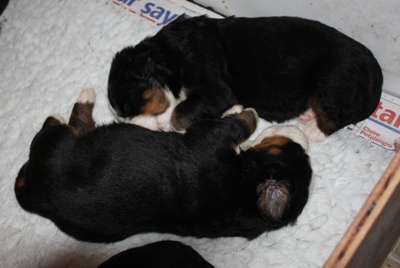 2 males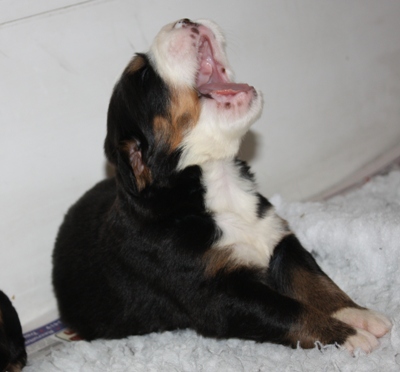 I'm hungry!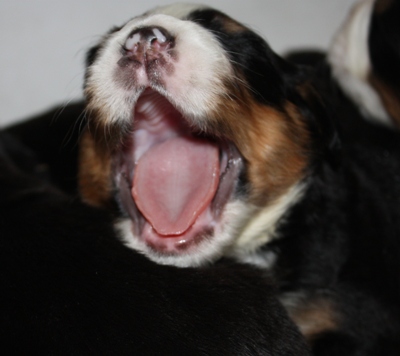 So am I!!
Thursday 14th April 2011
The puppies had their first visitors yesterday and Steffi was so proud to show off her brood. Will & Hazel who have had 2 puppies from us before out of Madi's litters, and who are having a male from Steffi's litter, called in on their way back from holiday. They were not allowed into the puppy room, they just stood at the gate and looked in.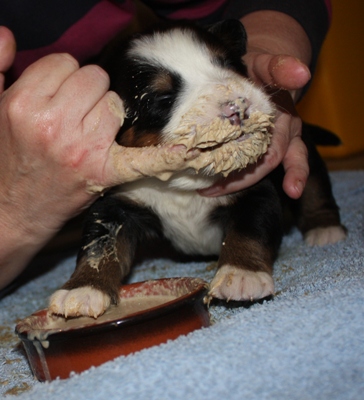 This was the first attempt at some puppy porridge. It was a little messy and I am sure more was wasted than eaten, but things will soon improve - we hope!
Saturday 16th April
The puppies woke Ian up at 5.00am this morning so we thought that it was time they had their first taste of rice pudding. We put two tins in the puppy feeder which were devoured in 15 minutes!! They then had a milky mid-morning feed followed by a Pedigree puppy porridge lunch. As you can see from the following pictures, we think that they are coping with the change over quite well.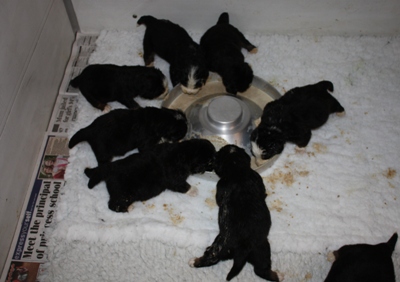 Puppy porridge feed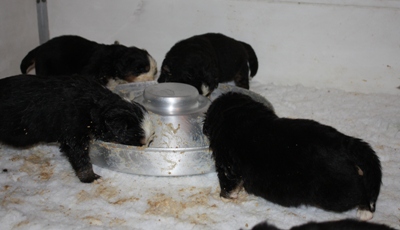 Finishing off the porridge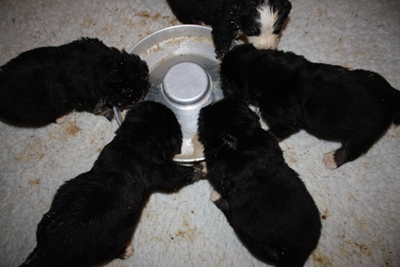 Nearly gone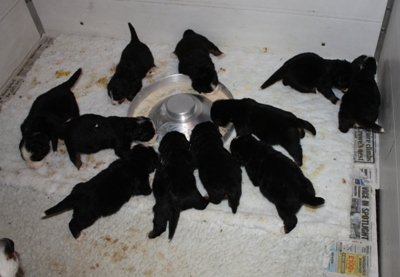 All 11 feeding with Steffi keeping any eye on them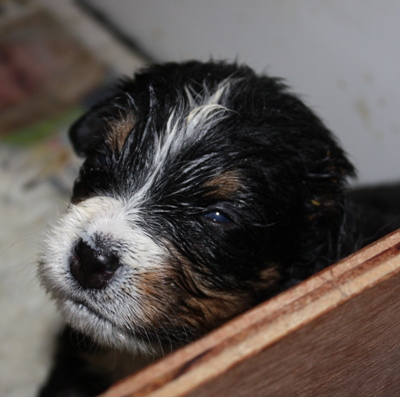 The dark faced little girl after her feed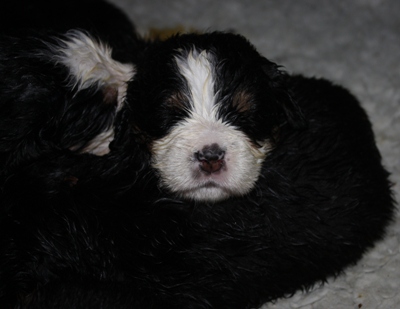 Sleeping it off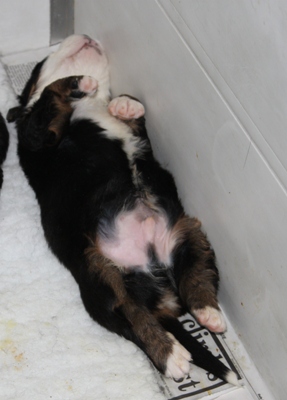 This little boy still likes to sleep on his back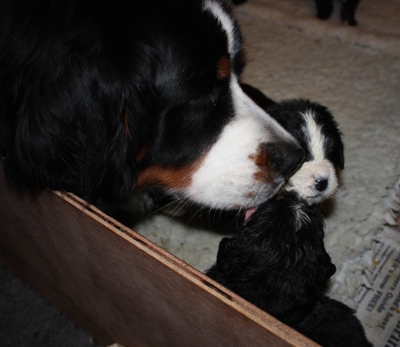 Steffi continues to be a brilliant mother. Her wound is quite remarkable, it is healing up very well by itself. She has to go to the vets again on Monday and hopefully there will not be the need for any surgery to repair it.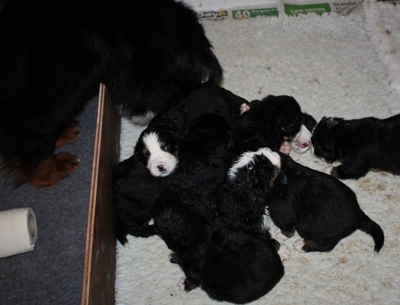 Clean up time