Switzerland 2011
In September we went to Switzerland for a week with Geilo, Elkie and Freya and our two friends from Tasmania Ray and Sue. Ray is Ians old schoolmate - they started school together at 5 years old, and Ray went to live in Australia some 30 years ago. We have kept in touch and 2 years ago they decided that they would like to go to Switzerland with us. We stayed in the mountain village of Grindelwald, which has been our holiday destination for the past 30 years. It was always hard to go away and leave the dogs, but since we obtained their pet passports, being able to take some of them with us has made our holiday even more enjoyable. They are welcomed in our Hotel where they are made to feel at home. We always try to go away so that we can go to the Swiss Bernese Mountain Dog Club Show which is usually held in September, either at the start of our holiday or the end. This year it was at the end of our holiday and was in Borgdorf. The dogs had a fantastic time and so did we. Here are some pictures.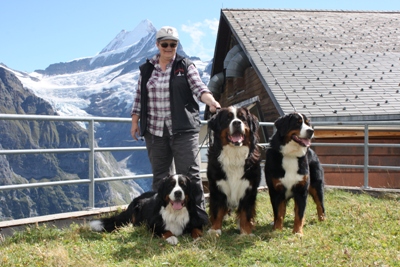 The Fisterhorn in the background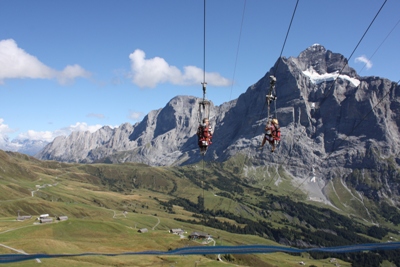 At the top of the cable car at First, you can go part of the way down on a Zip Line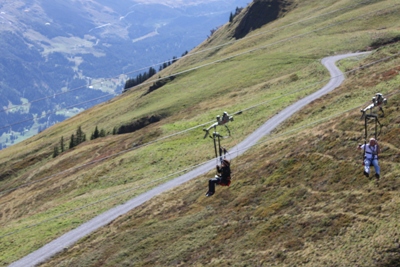 It looks like great fun, but you can't take a dog with you!
Geilo in the cable car with Ray and Sue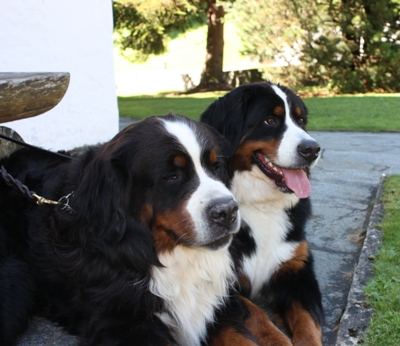 Geilo and Freya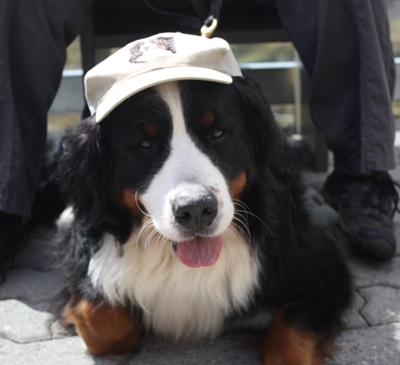 Elkie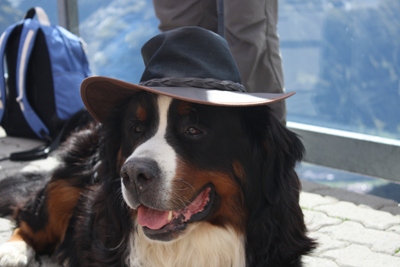 Geilo and his 'Aussie Hat'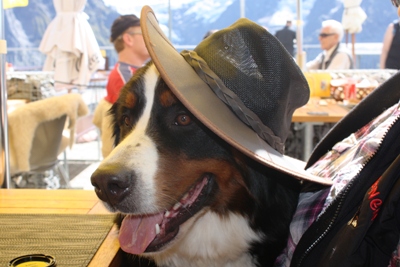 and not to be left out - Freya with her 'Aussie Hat'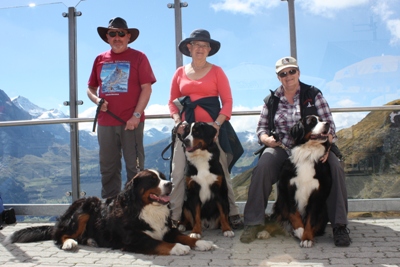 With our friends Ray and Sue at First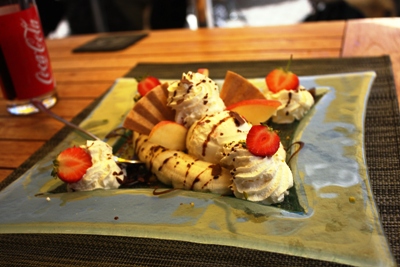 They don't do anything small in Switzerland - Jill's Banana Split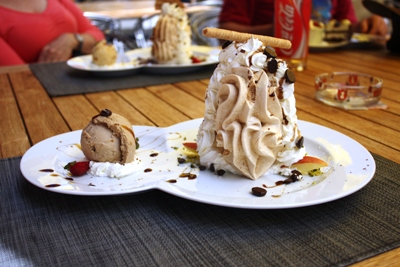 Ian's meringue and much to the dogs disgust he ate it all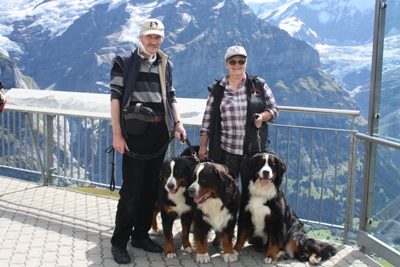 A rare picture of us both with the dogs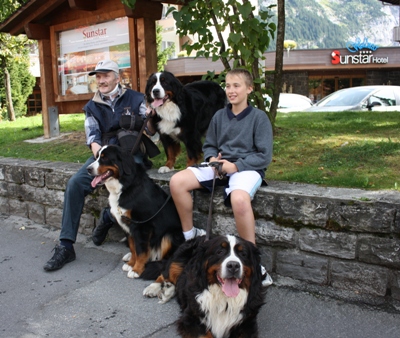 Talking to some Australians outside the Sunstar who hope to own a Bernese one day.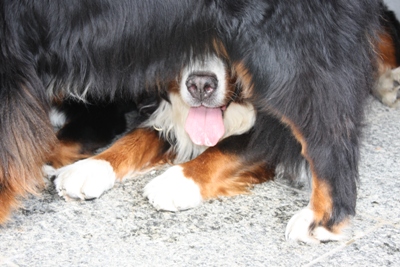 Some Bernese will do anything to find some shade!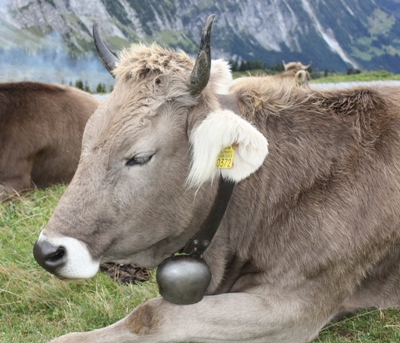 We loved their ears!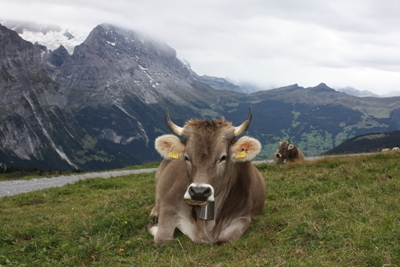 Say Cheese!!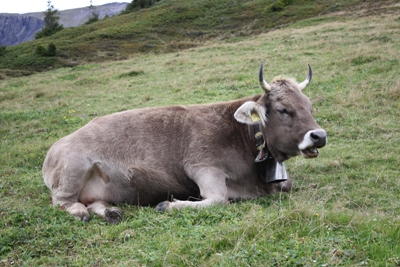 Mountain Cow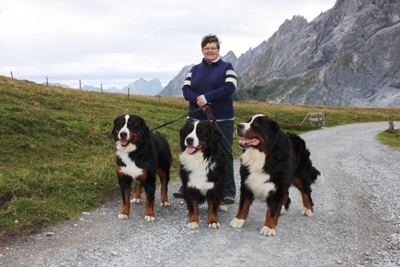 Walking at Grosse Scheidegg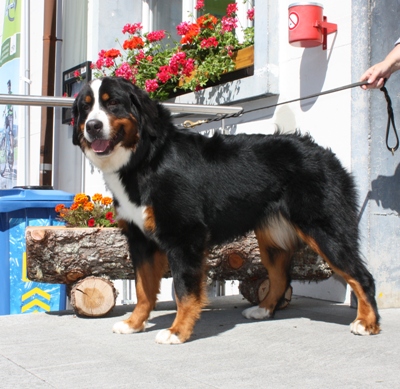 Freya coming out of the Cable Car Station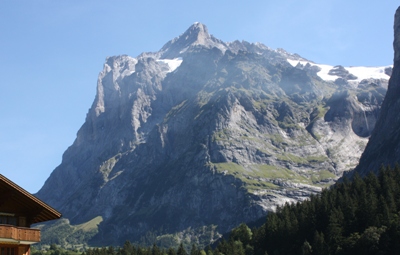 The Wetterhorn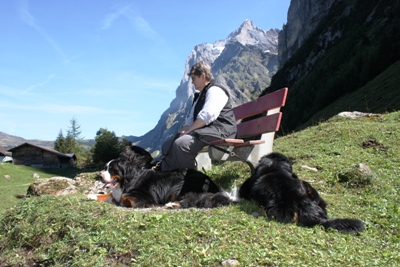 Relaxing with the Wetterhorn in the background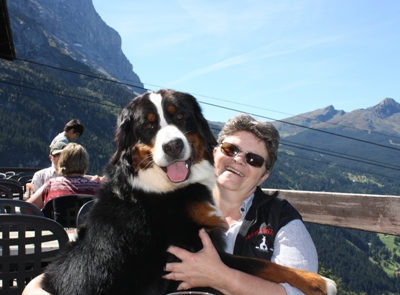 Freya at the restaurant at the top of the Cable Car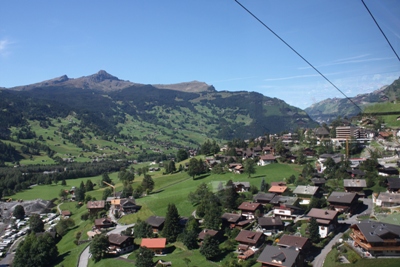 View from the Cable Car with the Lauberhorn in the background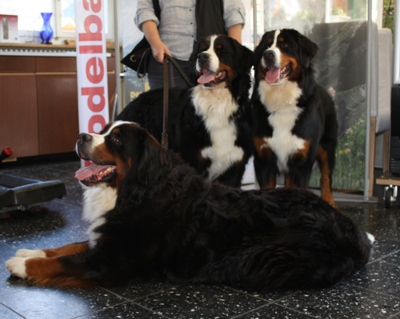 Waiting for the Cable car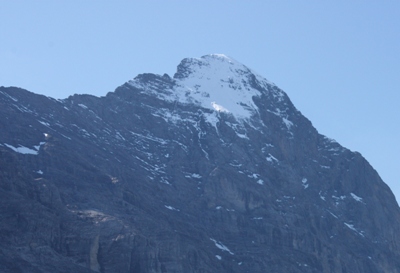 The Eiger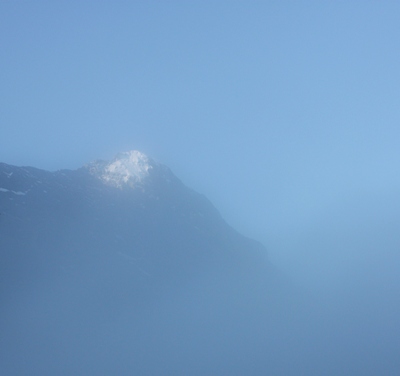 The Eiger in the Mist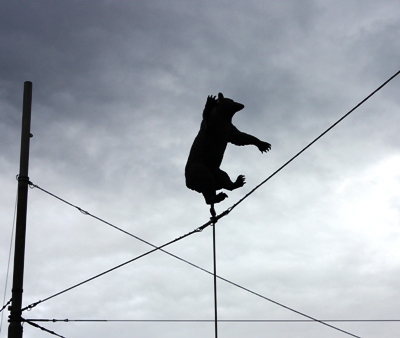 Bear on a Rope above Bern!