January 2012
18th January: It was a beautiful frosty morning today, ideal for taking the dogs a long walk. As you can see Katie had a wonderful time playing in the long grass. It was a bit scary taking the photographs though, Ian was sat on the floor hoping that neither Katie or Freya, who was chasing her, didn't land on top of him!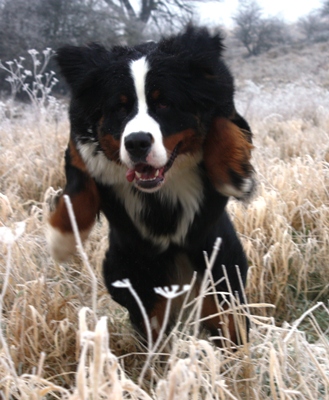 Katie in action!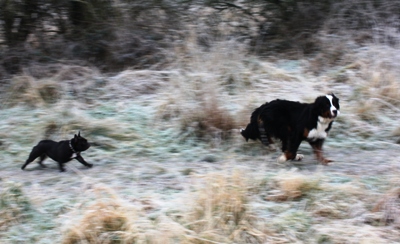 However, she didn't think much of this Boston Terrier, who chased her!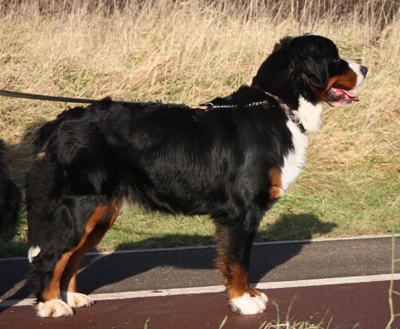 Katie
11th January: Today we celebrate the First Birthday of our new female Katie from Italy, she has only been in England a few weeks and she settled in instantly. When we were out for our walk this morning we decided it was time to let Katie off the lead and have a free run, she enjoyed her freedom as you will see from the pictures attached, when we called Katie back she immediatley responded and returned to us.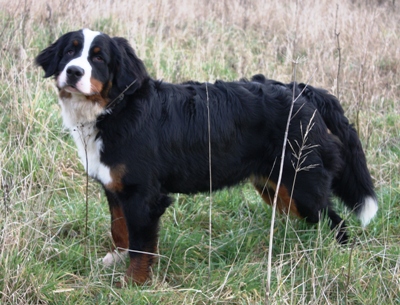 Katie (Katie del Lago di Tenno) - 1 year old today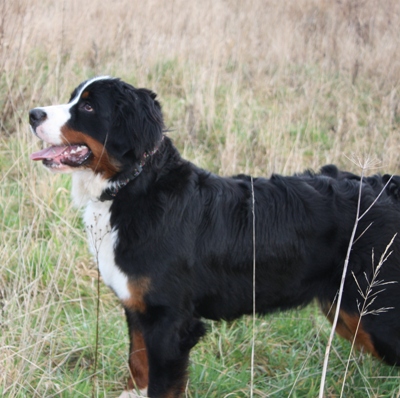 Today is the first time we have let Katie off the lead since she came to England.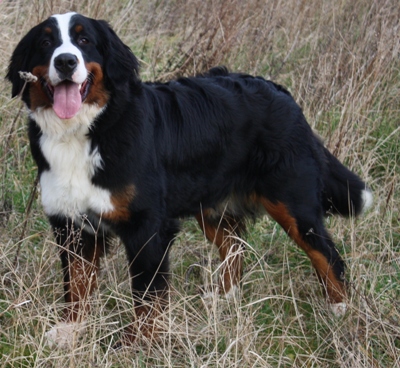 We didn't want to let her off until she had settled, but then she came into season on Christmas day so that postponed it for a couple of weeks.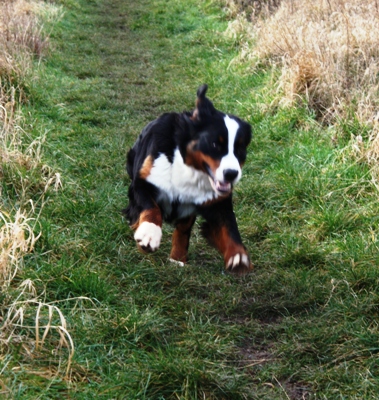 She enjoyed herself as you can see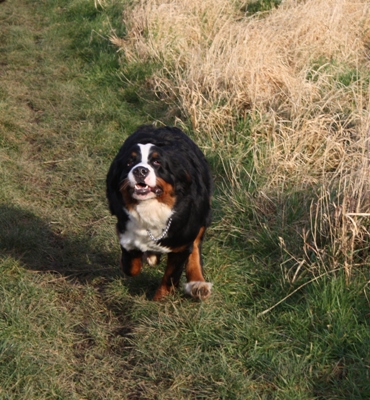 Free to run at last!
Also today Katie made her first appearence at school after the children had left she was allowed in to the classroom to meet the teacher's. This was the first time Katie had been in a situation like this, she had never been in a building like this before. When we entered the classroom Katie started to explore her surroundings after five minutes. She started to become confident in the room where there were wheelchairs and other equipment. We will continue to take Katie into school to prepare her for the day when she takes her Assessement to become an Official Therapy Dog. See also Katie's personal page for more pictures.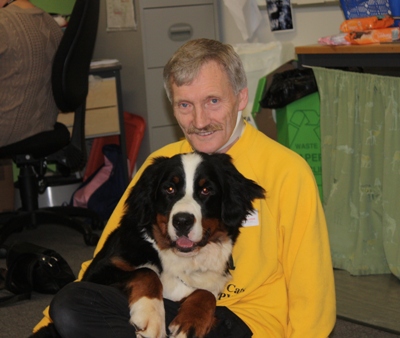 Katie's first day at school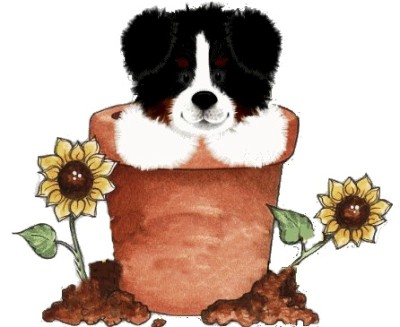 Happy Birthday Katie lots of love and hugs from Silvanna and Volkhard
10th January: Katie made her first visit to the Ecology Centre where Ian helps out with the children and young adults. There were no children there at the time but she explored the classroom thoroughly before curling up on the mat and going to sleep at the feet of Maxine the Warden.
8th January: We have received some pictures of three of the puppies, Ruby, Odin and Jasmine from our last litter, we have added them to 'Our Puppies' page and also added one below. The picture below is Jasmine and one of her owners grand children, you can see how gentle Jasmine is with him.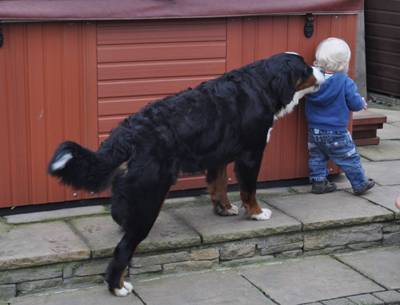 Jasmine - 9 months old - 'come on, it's time to get you inside for your tea' .
3rd January: Our second visitor in two days bringing one of our dogs back to visit us, today our friend Patsy from the Lake District brought her male Gus (Gustav) to see us. On the 13th of this month he will be 9 years old, we took Gustav a walk with Freya and he had a great time, although slowing down a little now he is still fully fit and loves his walks.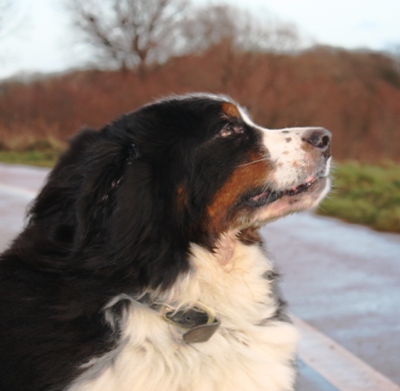 Gus - Madi/Paddy
2nd January: A nice way to start this year was with the first visit of one of our older puppies, today Micheal, Clare and Ian visited us with their female Tia who is 7 years 4 months old, Tia's parent's were our Casji our Belgian female and our own male Heiko. The weather stayed nice for their visit, it was nice to see them and Tia who we last saw two years ago, she is fit and healthy and still loves her walks, she is very friendly.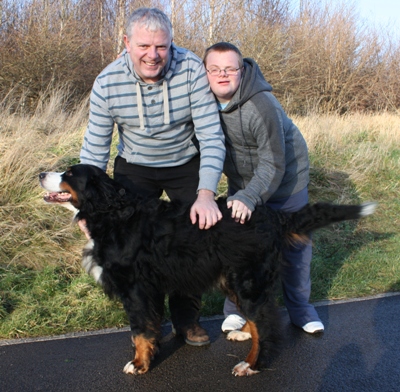 Tia - (Casji /Heiko) with Michael and Ian
1st January: Review of 2011 - Here we are at the start of another year, on reflection 2011 had many up' and down's for us and our dogs. We had started 2011 with great news that we were finally to have our first litter in a few years. The best news was that Geilo was the father and Steffi was the mother. Our good fortune changed to bad in February when we suddenly lost our gorgeous Uschi, this was espicially hard for me (Ian) as at the time Uschi was taken ill I was waiting to board a plane to go to Italy to see a litter of puppies. Sadly Uschi died while I was away and Jill had to cope with this on her own.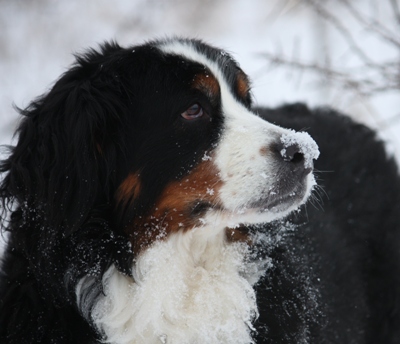 Uschi
In February we had the birth of Steffi and Geilo's puppies, we were delighted with them, Steffi required our help feeding the litter of 11 as she was not too well, we learned a lot from having this litter, it was very hard work and tiring. We had homes for all the puppies, some went to families who had owned or still had our puppies, the others went to very good homes and we made some nice friends.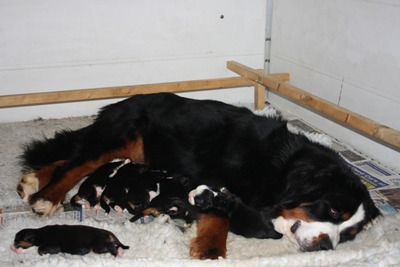 Steffi and her pups
We had a very good year showing with good results in Switzerland at the Bernese Mountain Dog Clubs Show in Burgdorf in September and also at the Bernese Mountain Dog Club of Great Britain's Ruby Anniversary. The two puppies we kept from our litter, Johann and Jenta, plus their litter sister Jasmine who lives in Linconshire with Dave, Sharon and Stephanie Watson have all qualified for Crufts 2012.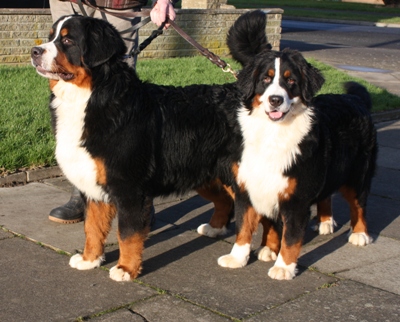 Johann and Jenta
In late October we started to worry about Janka, she was a little off colour, in November she had some tests and an ultrasound and the news was not good, we gave her all our attention over the coming weeks, Janka was still well enough to go for walks. At the end of November she was not happy going for walks and by the start of December we knew what Janka wanted us to do, we had to give her sleep. We had planned to go to Italy in November to collect our new puppy but this was out of the question while Janka was ill. We delayed our trip until the week before Christmas and drove to Italy, we drove through France and Switzerland staying overnight at Luzern. When we woke up in the morning it was snowing, this weather continued while we drove high up the mountains to the St, Gothard Tunnel, once through the tunnel we still had heavy snow for about 30 miles. Once the snow had cleared the weather was very good for the final part of our drive to Northern Italy to collect our new girl Katie.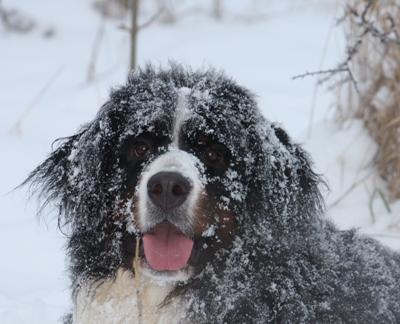 Janka
During the year some of the owners of our previous litters had to say goodbye to their beloved friends, it is never easy, it is the hardest and last loving thing we have to do for our dear friends. In January, Clare and Simon from Milton Keynes had to say farewell to Keirra a few days after her 8th birthday, Will and Hazell from Oxford had to say farewell to Hughie age 8 years 10 months their second Bernese from us, fortunatley before he died they wanted a friend for Hughie so they got Lewis from us who Johann and Jenta's litter brother. Both Keirra ang Hughie were brother and sister from our litter number 4. Our friend Patsy from the Lake District who has two of our dogs Johan (litter 2) and Gustav (litter 4 - brother of Kierra and Hughie) had arranged to visit us with her boys, she wanted us to see Johann as he was now over 9 years old. Unfortunatly Patsy has to cancel the visit as Johann became ill, he died age 9 years 8 months, Johan was a Therapy dog, he visited a care home in the Lake District.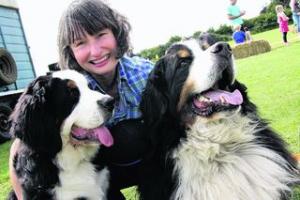 Lewis and Hughie
We hope 2012 will be a better year for us, our new girl Katie settled in from the moment she arrived, all our dogs get on very well with he. We will be starting training with Katie to become a Therapy dog and join our team of Therapy Dogs visiting the Special Needs School and Nursery School we visit each week. We also have plans for a litter early in the year from Steffi and Geilo.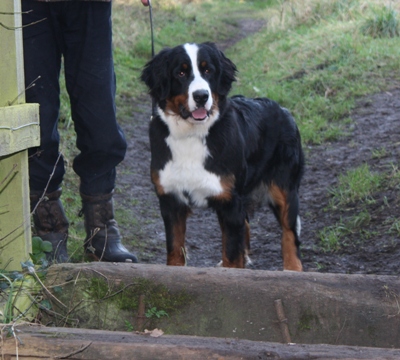 Katie at home in England - December 2011
This year Jill has started a new page layout, the pictures are larger and we think the text merges well with the new layout, we hope all our visitors to our homepage like the new page layout.
We wish all our friends and puppy families a Happy and Successful 2012.