March 2012
31st March 2012: All our puppies are very special to us and we are always sad to see them go, however this morning we were both very sad to see the very beautiful Skye go off to her new home, we had always liked Skye and had intended to keep her. However when we had the Brown family visit us from Scotland and heard of the loss of their Bernese at a very early age a few weeks before we decided that Skye (their name) could go to them. This gorgeous puppy has been the first to do everything, she lead the way, her brothers and sisters followed her, as you will see from all the pictures of her and her brothers and sisters Skye is the most photographed of all the puppies. She is so photogenic and will pose for the camera. Although we were both upset in her leaving we know that Skye has a wonderfull family to love and care for her all her life, she has gone to live in Scotland surrounded by great scenery with the sea near by.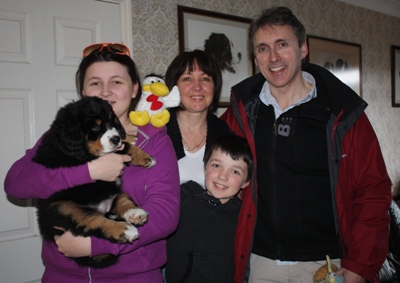 The second puppy to go today was Monti,he was the other male we were torn between in making our decision of which one we were keeping, Monti has go to live in Northern Ireland with Greg and Pauline Earl. Again we know that Monti will have the best of every thing and have a great life across the Irish Sea, they came to us about nine years ago for a puppy. They have another Bernese male, Luca and a rescued Black Labrador to keep him company. So at the moment we have puppies from this litter in England, Scotland and Ireland, tomorrow Sonny leaves us for Wales.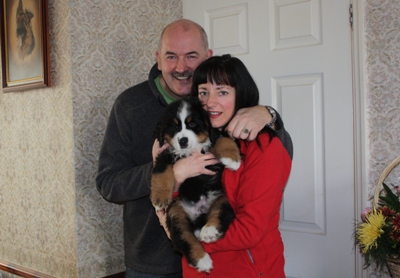 30th March 2012: It is hard to believe that our puppies are now just over eight weeks old, these weeks have flown by for us, perhaps not for the new owners. It is always a sad time for us when we have to let them go, our first puppy to leave us was Odin, he lives with the Holmes family in Lancashire, he will be living on a farm with Highland Cattle and sheep to keep him company.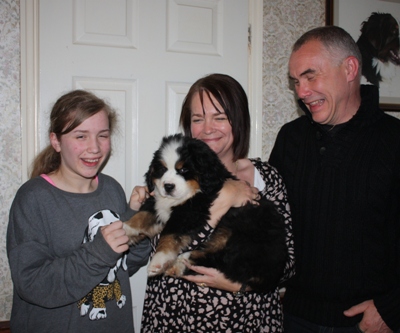 27th March 2012: Happy First Birthday to all of Geilo and Steffi's puppies. Birthday wishes from all of us here, brother Johann and sister Jenta send all their brothers and sisters a big hug. See 'Our Puppies' page for Birthday pictures.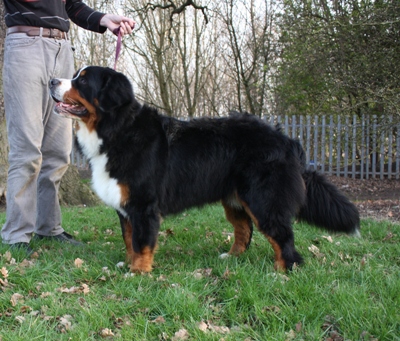 Johann - 1 year old
26th March 2012: Today we received a picture of one of Geilo's puppies from his 14th litter,bred by Mr and Mrs Pembrey in Cambridge, his name is Ozzy, he lives at Redcar about fifteen minutes from our home. His owners came to see us for one of our puppies and as we did not have enough male's we gave them their puppies breeders details. His owners have promised to bring Ozzy to see us and to meet Geilo and all his half brothers and sisters, we have added the picture of Ozzy to Geilo's Litters page (see litter 14). He is a few weeks older than our puppies, Khono and the male we are keeping.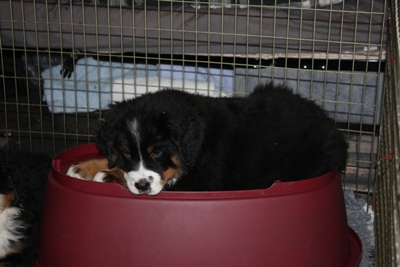 Khono
24th March 2012: We attended the Northern Bernese Mountain Dog Club Championship Show, unfortunatly Jill had to stay at home again to look after the puppies so our friend Grahame went to the show with me to help. We entered Johann, Jenta, Katie and Elkie in the show, Johann is still a little out of coat, we still took him for the experience. As this was Katie's first show we did not know how she would react to the hall, all the people and dogs and being in a show ring, we should not have worried as she was her usual calm happy self. Once in the ring she acted like she had been there before, all I wanted her to do was allow the judge to go over her, and hopefully run round as she should, she did all this no problem. The judge commented on how calm she was and her wonderfull temperement, after the judging I spoke to the judge and told her that Katie is a Therapy Dog working with Special Needs Children and she said that Katie was wonderful for this work and what a nice girl she is. The judge also commented about all our dogs to me in the ring saying what great temperements they all had.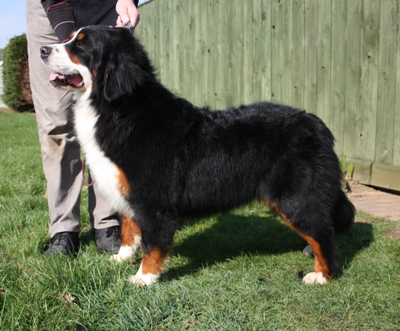 Jenta
20th March 2012: This evening we attended Ring Craft classes with Katie, this was another first for her, we had not been able to take her before as we had mated Steffi. We do not take our dogs to shows or training classes after we have mated a female in case we bring an infection back home with us. At first Katie was a little put off with all the different breeds that were there as she has not been in close contact with any breed apart from living with Bernese and seeing other dogs while out walking. It was also her first time in a show hall environment, it was not too long before she settled and made a few attempts on the mat to be gone over by the trainer. She took this in her stride and it was no problem to her, this was Katie's first show class before her first show, we had entered her in the Northern Bernese Club Championship Show a few days later.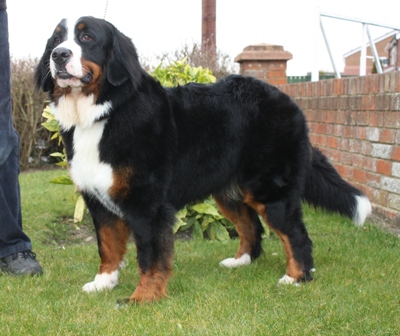 Katie
19th March 2012: Today we were able to give Katie her first bath since we brought her from Italy, she had not been in a dog bath like ours before but she was no problem. After we had bathed and groomed her she was a different dog, the transformation was unbelievable.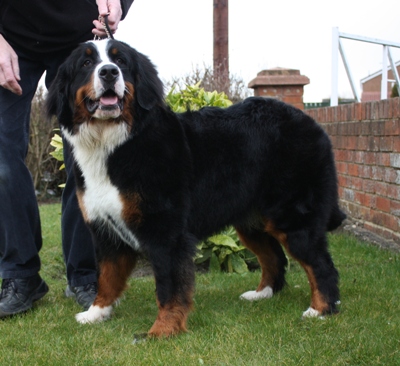 Katie after her bath
10th March 2012: Crufts Dog Show, N.E.C. Birmingham. Today we showed our young male puppy Johann, he had qualified for Crufts 2012 last year. Prior to today Johann had only been to two shows, he coped very well with the large crowds and noise in the Exhibition Centre. We had entered Johann in the Special Puppy Dog class, there were 11 entered with two absent, I was delighted to be awarded 4th place in the class, a great achievement for his first visit to Crufts. Unfortunatly Jill was not there to see him as she had to stay home to look after the puppies, I had the support of our friends from Cork who are the owners of Johann's litter brother Odin. We all had a great weekend. This was also Johann's longest trip away from home, we went in the car which was all new to him as he always travells in the van with our other dogs, he also stayed in a hotel for the first time and was excellent in the room and with the other dogs and people he met.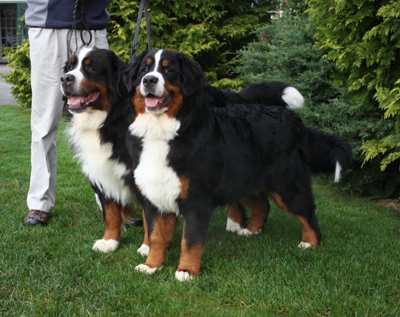 Geilo and Johann
8th March 2012: Check Geilo's Litters page, Litter 14 for pictures of his latest puppies.
1st March 2012: Our puppies were 4 weeks old yesterday and are progressing really well, we are very pleased with them. Steffi continues to be an excellent mother to them and is in very good health. The problems she had with her Mastitis last time have not affected her ability to feed the puppies in any way.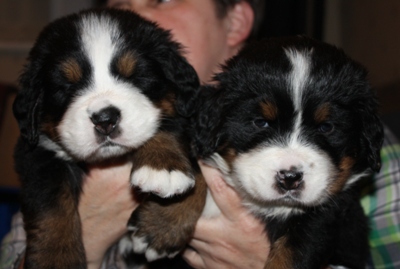 Kheno and Khono - 4 weeks old