June 2012
28th June - Congratulations to Jasmine (Staubach Jodi von der Wald) and her owners Sharon (handler) Dave and daughter Stephanie for their class win in Junior female at Windsor Championship Show today.
10th June - Thanks to all the families who have sent us news and new pictures of all the puppies from our February litter, you can see all the pictures on the Litter Feb 2012 page, each puppy has their own page. Yesterday Sonny made his show debut, he is the first puppy from this litter to be entered at a show, congratulations to Sonny and his family.
9th June - Hi to all my brothers and sisters (Litter February 2012) from Sonny. Today I went to the local village Fete and was in the dog show there, A lovely Red Setter called Finlay came First who I made friends with, I was awarded Second place and received a beautiful rosette. I was the biggest puppy when I was born but after a week or so I had to be helped by having a bottle of milk because I was not feeding from my mother very well. I do not know what was in the milk but as you can see I am perfect now. I am a very happy, sociable and healthy puppy as you can see in my picture below.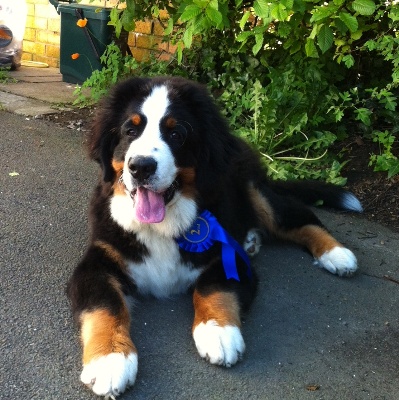 Sonny age 4 months.
5th June - Congratulations on the birth of Geilo's puppies to Nala (Dolyhir Easter Evensong), this is Nala's first litter and also the first litter for her breeders Anna and Julian.
4th June - We have added some new pictures to Our Puppies page and Litter February 2012 pages.