Katie - Therapy dog
When we brought Katie to England in December from Italy she was 11 months old, we took her to school as a one off visit to show her to the staff, they were immediatly impressed with her and asked when she would become a Therapy Dog. Within a few weeks she had her Assessement to become a Therapy Dog and passed with flying colours. Her breeder in Italy had looked afer Katie for us until she come come into England, we should have collected her earlier than we did, however we were not able to due to one of our dogs being very ill. I saw Katie when she was six weeks old, I spent hours with the litter getting to know the puppies and their mother. We were very fortunate than in the months Katie's breeder Silvana looked after her for us she did some socialisation work with her, without Silvana's early training it would have been a few months longer before we could have had Katie assessed as a Therapy dog.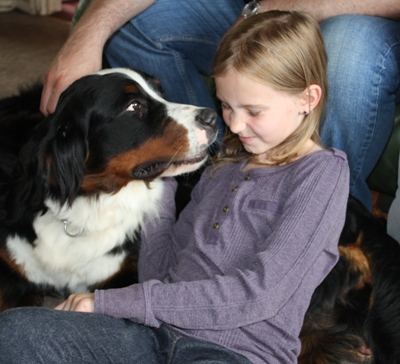 Katie and Jessica our visitor at home
We take Katie to the same Special Needs School as Freya, we go on a Wednesday with Katie, she loves to be with the children in the Sensory Room. The moving coloured lights, water tubes, music, large soft cushions, children shouting etc does not upset Katie at all, she loves every minute, when we leave the sensory room she lets one of the girls hold her lead and takes her back to the class room. Her ability to work with the children of all abilities is fantastic for a dog who has only been working with children a few months.
It is now the school summer holidays so Katie can relax, saying this she still know which day she should be getting ready to go to school, it will be a long six weeks for both of us, we always miss school and the children in the holidays.