September 2012
21st & 22nd September: We left home mid morning on Friday to drive to Penarth in South Wales where we were visiting the owners of Sonny one of our last puppies. When we arrived we were met in the driveway by Fenella and Matt who was holding Sonny on his lead, to say we were amazed would be an understatement, we could not believe Sonny. When he was with us we called him " The Little Fella " he has certainly out grown his puppy nickname.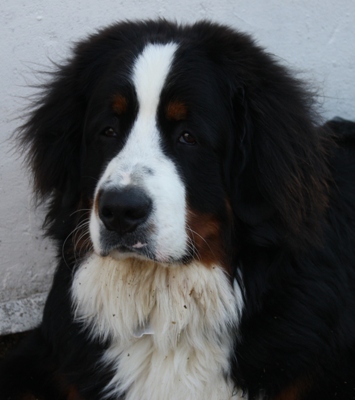 The "Little Fella"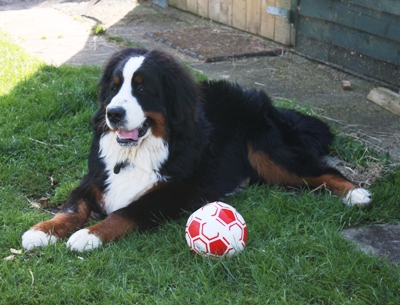 We had with us Sonny's litter brother Kheno and sister Khono, we also had his father Geilo, Elkie, Freya and Katie, it was very nice to see them all playing together on the garden. Sonny was very happy to have all the dogs at his house, it was not a problem to him.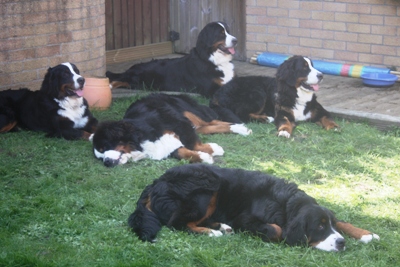 On Friday evening we left Katie and Freya with Fenella, Matt and their children Daniel and Bridie for the night while we went to our hotel, it was the first time Kheno and Khono had stayed in a hotel so it was good training for them. They were both perfect, we never heard them until we woke the following morning, after breakfast we returned to see how Freya and Katie were, they too had been very good.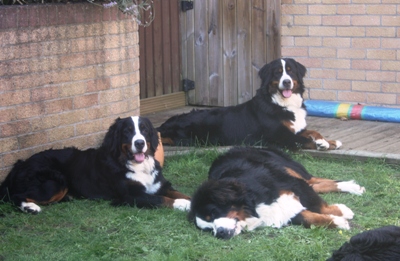 This was the first time we had ever left them with anyone, Matt and Fenella had taken them out for a walk in the woods with Sonny before we arrived. We then went to Fenella's parents home where all the dogs had the run of a four acre newly mown hay field, a great place for them to have off lead fun.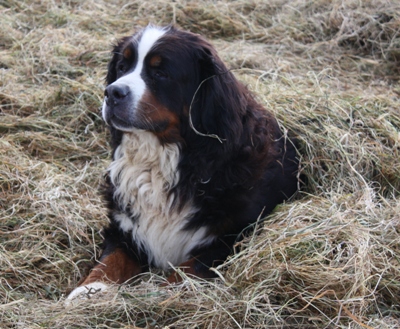 Katie was introduced to Teddy who is Bridie's pony, it was the first time Katie had seen a pony. We had a very nice break and it was good to see Sonny, thanks to Matt, Fenella, Daniel and Bridie for your hospitality and looking after us all, not easy having two adults and six Bernese land at your door.
It was also good to see that Sonny uses his ramp to get in the car. We have tried this in the past, but with older dogs and have never had much success.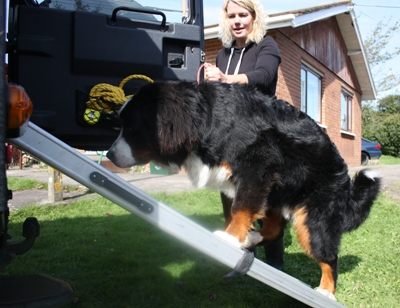 Sonny using his ramp, very impressive!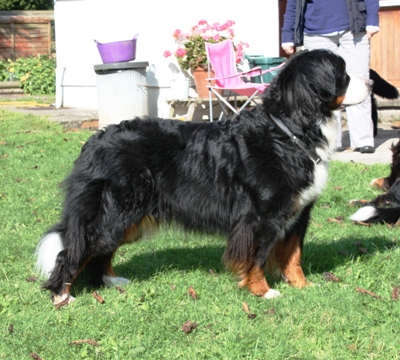 Elkie, watching whats going on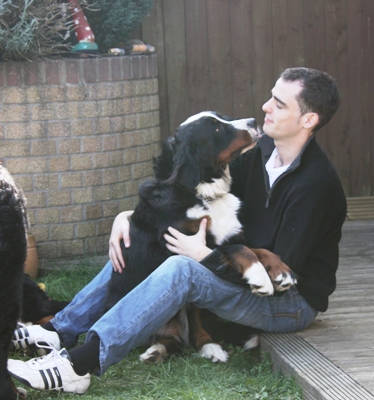 Katie loves Dan!!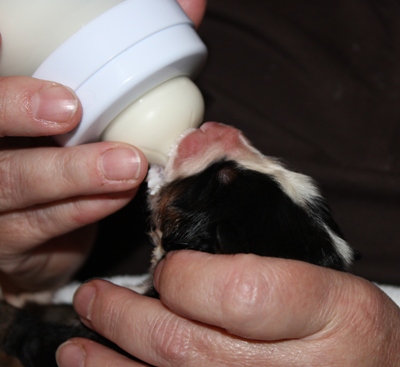 It never ceases to amaze us, that a puppy can go from this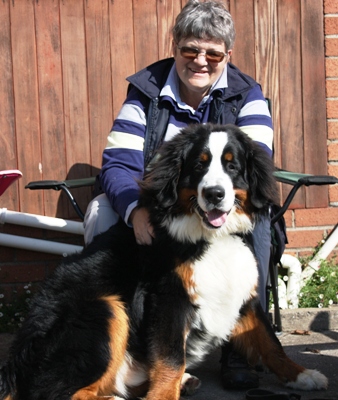 to this in less than 8 months!!
16th September: It is with great sadness we have to report the sudden passing of Harvey (Staubach Hondo von der Wald) he was from our 7th litter, Harvey a son of our Belgian female Casji was 6 years 9 months old. Our thoughts are with Harvey's loving owners Paul and Alison at this very sad time. We remember the day they came to collect Harvey, they had just returned home from holiday on a very long flight, after landing at Heathrow they went home to Southampton then drove up to collect Harvey. Thank you for giving Harvey a wonderful home and life with you, Harvey is reunited with his sister Becky, brother Oscar and mother Casji at the Rainbow Bridge.
Harvey
10th September: Congratulations to Ruby (Bernarks Boo Boo Special) and her owner Katrina on the birth of her litter in the early hours of this morning, the father of the litter is Geilo, the litter was born four days after his eigth birthday. We will be adding news and pictures over the coming weeks.
6th September: Today we have a very special celebration, our wonderful boy Geilo is 8 years old, we cannot believe how the years have passed so quickly since we brought him home from Norway. As you will see from Geilo's Litters page he is still producing puppies, all his children here will be celebrating with their dad today.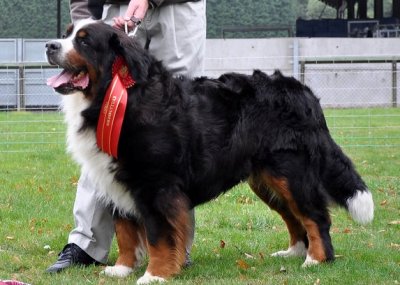 Geilo - Best Vetran male, BMDC of G.B. Ruby Jubilee Club Show 2011
2nd September 2012 - We visited the ''Stockton Council Show" there were many attractions there and a Fun Dog Show. Our friends Stuart and Donna from Driffield came with their two children Jessica and Daniel the day before so they could visit us and the show. Their parents had not told them we were going to let them take our puppies Kheno and Khono in the Fun Dog Show, when we told them they were very pleased.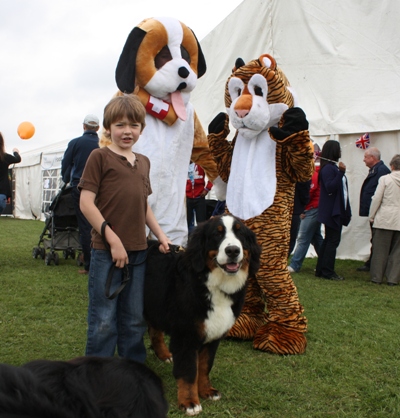 Daniel was given Kheno to look after for the day, this was a great day for socialisation, when we entered the showground we were met a St, Bernard and Tigger, Kheno was not bothered by these big things in costumes.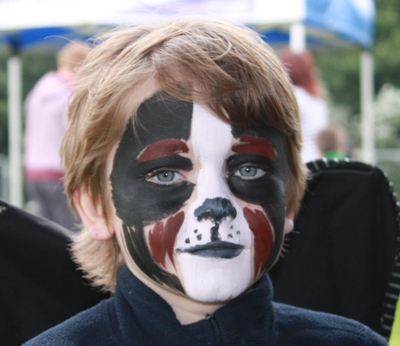 When we entered the classes, there was a class for the 'Owner who looked like his dog' we heard over the speaker system there was a face painting artist. Daniel was happy to have his face painted like Kheno.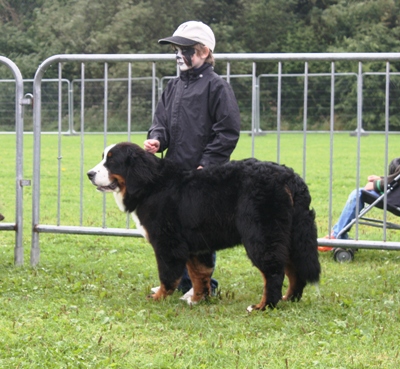 Daniel with Kheno in the 'Owner who looked like his dog' class - Daniel won this large class, in second place was a lady who had her face painted like a brown Spaniel, - well done Daniel and Kheno.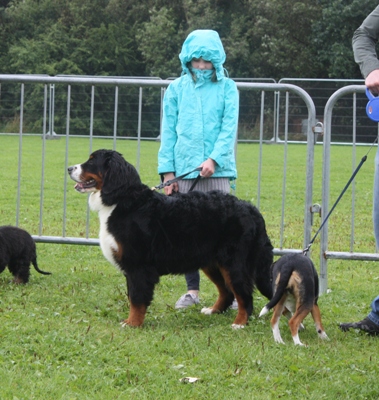 Jessica with Khono in the Dog the Judge would like to take home class - well done to Jessica and Khono who were placed 3rd in this big class. Unfortunatly It had started to rain just before judging started.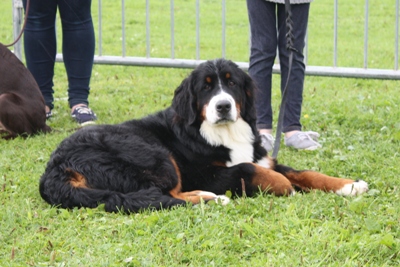 Khono relaxing in the ring with Jessica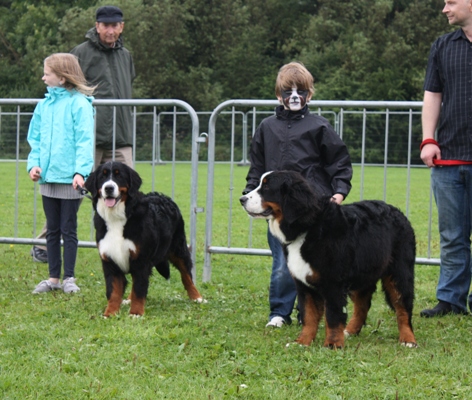 Two Brothers and Two Sisters - Jessica with Khono and Daniel with Kheno.
(Khono and Kheno brother and sister, Jessica and Daniel brother and sister)
This was the first time Jessica and Daniel had even handled any dogs at a show, they were both excellent with Khono and Kheno, when the Judge asked them questions about the dogs they answered them very well. During the show both Jessica and Daniel were awarded Rosettes and some small gifts from the classes they competed in, when they return to school after the holidays they will have some nice stories tell. Jessica, Daniel and their parents do not own a Bernese of their own at the moment, they are waiting for a puppy in the future. After a long day at the show they had final hour looking round before coming to our house to see all the dogs before their long journey home to Driffield.
.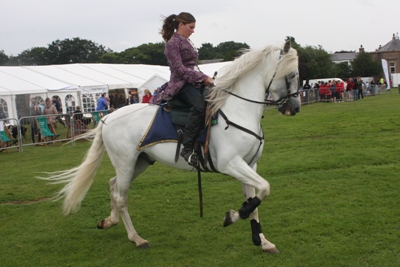 One of the many beautiful horses taking part in one of the Equestrian events.