December 2012
29th December: Congratulations to Freya's litter sister Mollie (Kinelarty Lady of the Loch), her breeder Sally Murphy (Kinelarty Bernese) and owners Ivan and Kelly at her success on the 27th December on becoming an Irish Champion.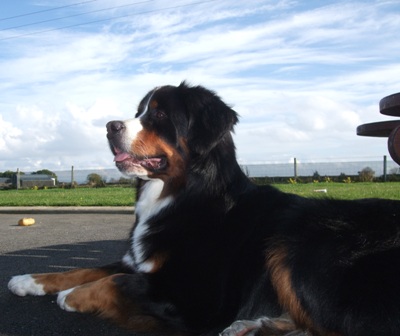 Mollie - Kinelarty Lady of the Loch
23rd December: After yesterdays rain today we have had a nice sunny day, a little windy at times but nice for walking the dogs. This morning Tony and Nicola came to see us and the dogs, they live five minutes from our house, we took Geilo and Freya out for a walk with them. How is it that when ever they visit us and we take Geilo and Freya a walk with them Freya runs round like a maniac and jumps in all the water, today she excelled herself. At the end of the path the field was full of deep water, not happy to run throught it she decided it would be good to lay down in it, as I did not have the camera Tony took a picture on his phone, just as he was about to take Freya's picture she jumped up so we missed a great picture. The picture below shows how wet it was, in future we think that Tony and Nicola should be responsible for Freya and take her home for us and bath her!!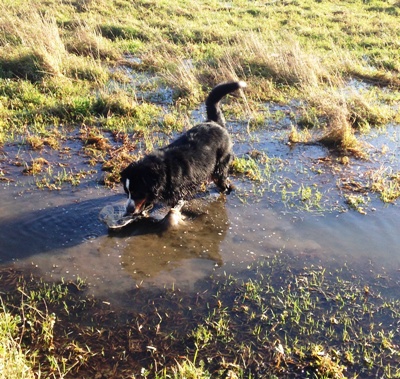 22nd December: It is hard to believe that one year ago today we were driving home from Italy with our new female Katie, we had been to collect her from Silvana her breeder. Our drive home was long, driving through deep snow in Switzerland. Not long after Katie arrived at our home she was temperement assessed and joined our team of Therapy Dogs visiting a Special Needs School, she is the most energetic Bernese and an absolute joy to live with, she gets on well with all our dogs, Freya and her are inseperable.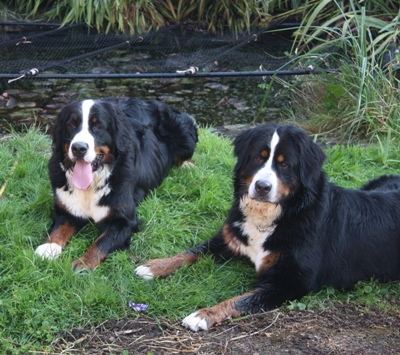 Katie and Freya
16th December: Today we went to visit Sue and Keith Brown (Delphinia Bernese) and their female Hetty (Emberfay Simply the Best at Delphinia) and her puppies (they live in Barnsley), this is Geilo's latest litter. The puppies are six weeks old so it was a good time for us to go and see them before they go to their new homes in a few weeks time. There are more pictures on Geilo's Litters page, see Litter 19.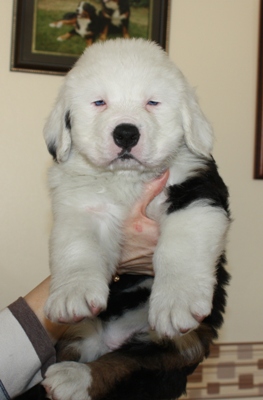 As you can see there was a very unusual puppy in the litter called Zoe. We would very happily take her home.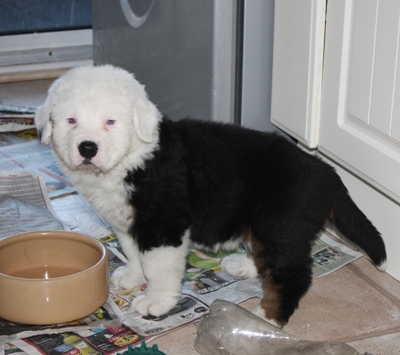 There were 5 girls in the littter and Zoe is very unusual, we have seen another puppy similar to her, who lives abroad, she is known Worldwide and has her own web page!!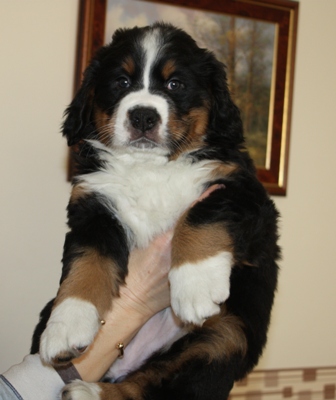 This is her litter sister Betsy, who apart from having maybe a little too much white on her feet, is perfectly marked. For pictures of all the litter see Geilo's last litter.
12th December: A day and date we will never see again. 12/12/12
11th December: Today is the 7th Birthday of Mischa a puppy from our 8th litter, the mother is our our own girl Jodi, they are Seven years old today.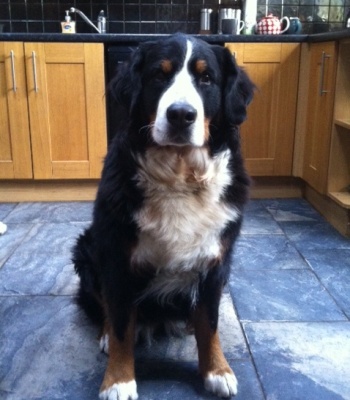 Misha
9th December: Today is the 7th Birthday of the puppies from our 7th litter, the mother is our Belgian girl Casji, they are Seven years old today.
8th December: We have received some pictures of two male puppies, now you will start to get confused!!! They are both male's from Geilo and Steffi's litters. What is the confusion we hear you saying, well!! both families have named their male's ODIN, so we have the older male Odin who lives in Cork, Ireland and Odin the younger who lives on the farm in Colne, Lancashire. So! you will find pictures of Odin from Cork on "Our Puppies page" - 1 year old and Upwards. and Odin from Colne on the "Litter Feb 2012 page.