January 2013
26th January 2013 - Woke up to some great snow this morning, so had to take the camera with us, as we love pictures of the dogs in the snow. Just as well we did because it has rained very heavily and it has all gone now.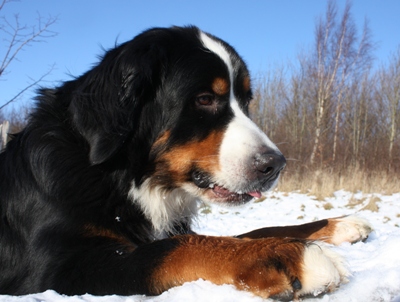 Freya sunbathing in the snow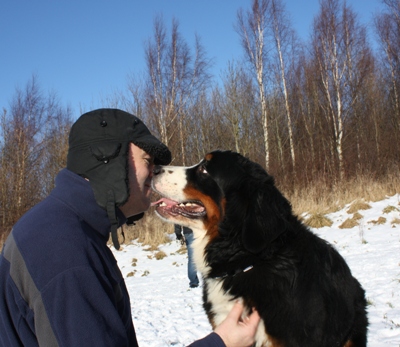 Tony, I wish you would take that hat off!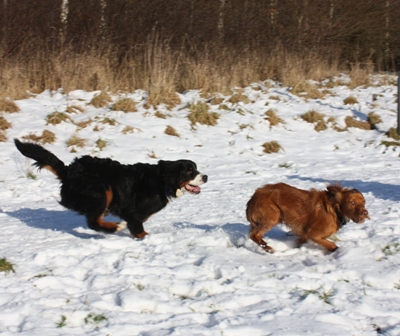 Khono having great fun, not so sure about the Spaniel!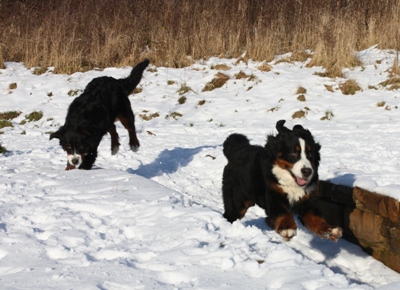 Khono, trying to stand on her head and Kheno
24th January 2013 - These are 4 of Geilos puppies, the top two from Litter 17 and the bottom 2 from Litter 19, all are females.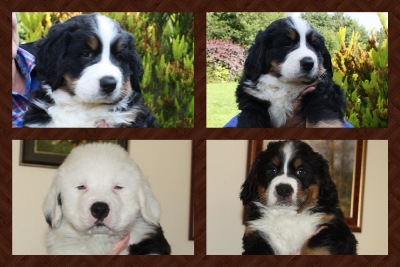 20th January 2013 Today Jill has added new pictures to the following pages: Litter Feb 2012 (see Khono and Kheno's pages) Geilo's Litters (see litters 7, 15 and 18), Our Puppies page (see 1 year and upwards). Yesterday at our local Show Training class we took pictures of Rosy who is Geilo's daughter from his litter 18, she is a very friendly, happy and sociable puppy.
19th January 2013 We woke this morning to a deep covering of snow, this is the first time Kheno and Khono have seen snow. When they went out for their walk they both had a great time running in the deep snow in the field behind our house, as they were playing they reminded us of how much our gorgeous Elkie loved running and playing in the snow. We love to take pictures of all our dogs in the snow.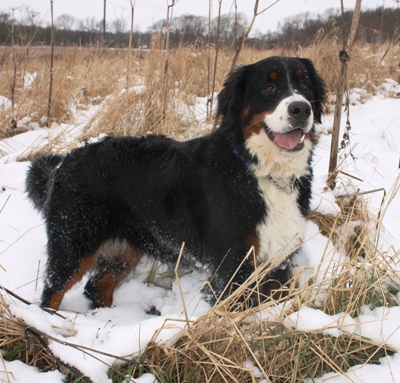 Khono 11 months old - First Snow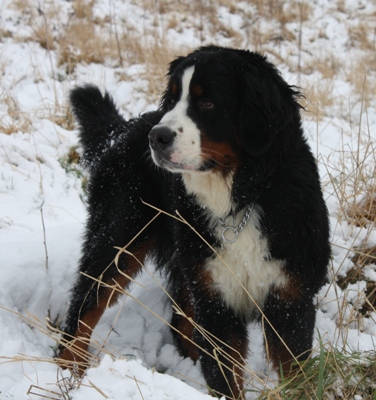 Kheno 11 months old - First Snow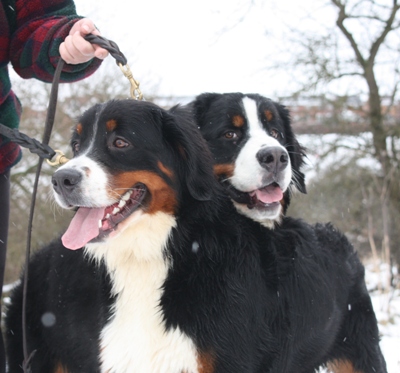 Kheno resting his head on his sisters back after their first play in snow.
15th January 2013 It is with great sadness that we had to give our beautiful girl Elkie - Tiggerifik Lady in Red at Staubach - sleep today after a short illness. To say that we are both devastated is an understatement. "Our Elks" would have been 6 years old in May. We will add a tribute page in the next couple of days, but in the meantime we would like to thank her breeders Graham and Pauline McAllister for entrusting her to us, to share our lives with, she was a joy to live with. RIP our very special and much loved girl, we will never forget you.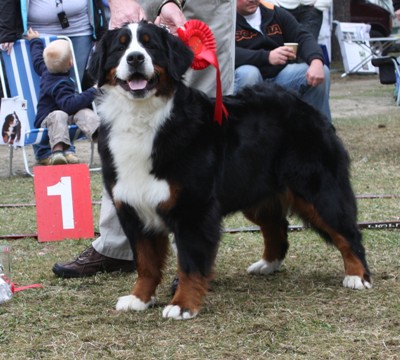 Elkie 24/05/2007 - 15/01/2013
We have started a Story page for Zoe, a very Special and Unique Bernese puppy, she is a daughter of Geilo and Hetty (see Geilo's Litters page Litter 19), her breeders are Sue and Keith Brown (Delphinia). Why is Zoe special? Well! as you will see from her pictures on her page and her litter page Zoe is half white, she is absolutly gorgeous, when we went to vist Sue and Keith to see the litter when they were six weeks old we would have brought her home if they had decided not to keep her. We know of only one other half white Bernese in the world, Zoe's breederd decided to keep her so they will send us regular news updates and pictures for Zoe's Story page. We know all our visitors will love to see her developing and knowing what Zoe is doing during her life, Zoe is a 'show stopper', everyone wants to see her. You can leave any comments about Zoe on our Guest Book and we will forward them to Sue and Keith.
13th January: CONGRATULATIONS - a Happy 10th Birthday to Gustav (Staubach Excalibur) born this day ten years ago, son of our wonderful girl Madi and Paddy (Ridgewater Skychief of Glanzberg) (our litter No.4). Like his mother and Uncle Heiko Gustav too was a Therapy Dog. Thanks to Patsy and Dave for giving Gustav a wonderful home and life in the Lake District. His very special birthday has brightened our day, cherish every minute you have your Bernese. Big hugs Gustav from all of us here.
11th January: Today we celebrate Katie's 2nd Birthday, she is a very happy, sociable friendly girl, full of life and a great Therapy Dog, Katie loves nothing more than spending time with the children at school. Katie sends Birthday wishes to all her brothers and sisters in Italy and hope they all have a good day.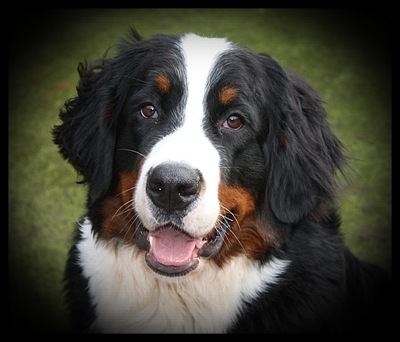 Katie (Katie del Lago di Tenno at Staubach (Imp Italy) - 2 years old today
8th January: We are sorry our page has not been updated for a week, unfortunatly our computer was broken and away being repaired, we have recently received some pictures of Odin and his younger sister Skye. We have added each to their relevent pages, for Odin see Our Puppies page, 1 year old and upwards, for Skye see Litter Feb 2012 page and look on Skye's page there..
1st January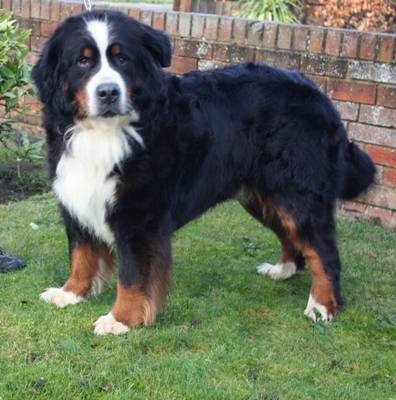 Geilo after his first bath of the New Year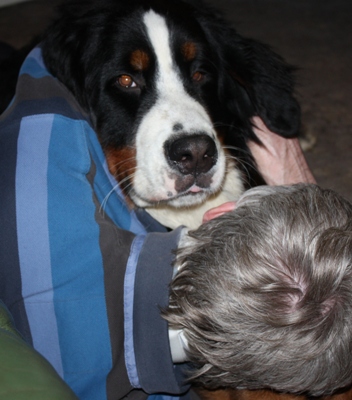 Kheno having his bedtime cuddle!