from birth to.......
Welcome to Zoe's page, a truly unique Bernese Mountain Dog - this is her story.
Delphinia Blondie Bear
Born: November 2nd 2012 (Breeders: Sue and Keith Brown)
Information and pictures of Zoe's sister's on Geilo's Litters Page, Litter 19
(for latest news please scroll down page)
Here you will see I have my own Special page, my owners Sue and Keith will be sending lots of news and pictures about me over the coming years. I hope you enjoy reading my on going story, please do not forget my sister's, their pictures will be on Geilo and Hetty's litters page. If you ever see me about with Sue and Keith it will be nice to meet you, please come and say hello to me, my Bernese friends, oh and Sueand Keith too!! I hope you like my page, you can send me messages through the Guestbook on the site and Ian and Jill will pass them on to me. Big Hugs Zoe. xxx
Hello - My name is Zoe, I was born on November 2nd 2012, I have four sisters, Betsy, Chablis, Xena and Jett, you will see pictures of us all on Geilo's Litters page, as you will see from our pictures I am a little different to my sisters, I have been told I am a unique Bernese Mountain Dog. My mother Hetty and father Geilo both have correctmarkings for Bernese so I was a surprise when I was born, I am half white.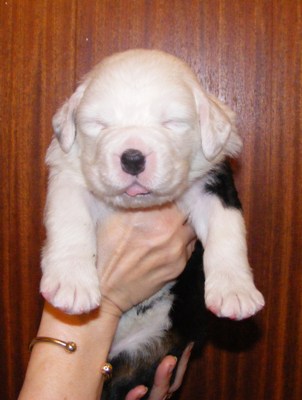 This is me before my eyes opened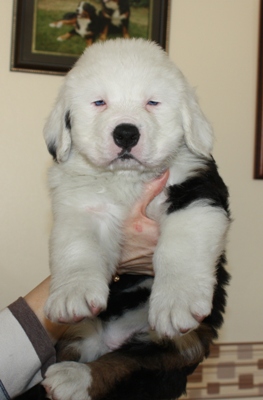 Here I am now 6 weeks old
There is another female Bernese marked like me, she lives in Norway andher name is Snow White, so I am her double. One weekend when we were eight weeks old the new families would come and take one of my sister's away, as another went then another there were only two of us left. We stayed together another week then my last sister went to her new home, I was sad, who wanted me? I need not worry because I have stayed here with my mother Hetty, Sue, Keith and our doggie family. When I am older Keith and Sue want to train me to be a carting dog like my Mum and Marti my Bernese big step sister. Like my sister's I am looking forward to going to puppy socialisation classes and meeting lots of newfriends.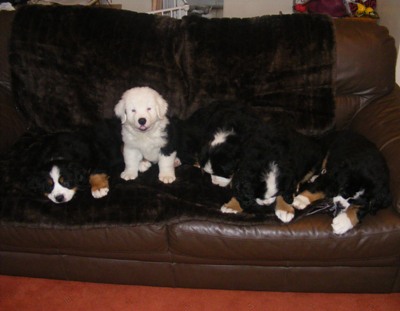 This is me with my sisters before they went to their new homes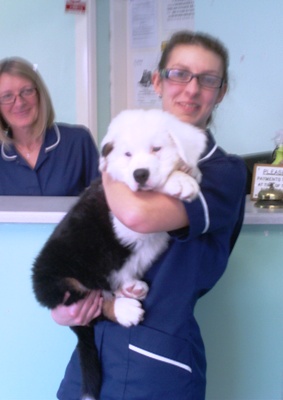 Me and the Veterinary Nurse - will she cuddle me in her arms every time I visit?
Hello again today after breakfast and a play on the lawn Sue and I went for a ride in the car to see the Vet, she said now I am 10 weeks old I should go for my second vaccine and Microchip (is that food) to keep me safe.
The ladies behind the counter came to fuss me and said I was cute and they wanted to take me home.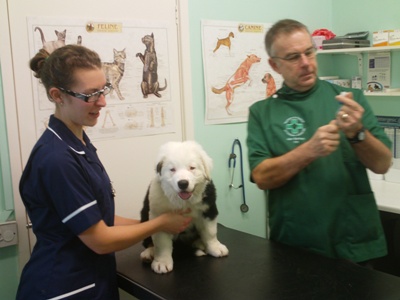 Me and my friend the Vet and my favourite Nurse.
When I went to see the Vet I hardly felt the injections because i was getting lots of cuddles. He said I had grown a lot since my first visit and was very brave, it must have been all the cuddles I had.
.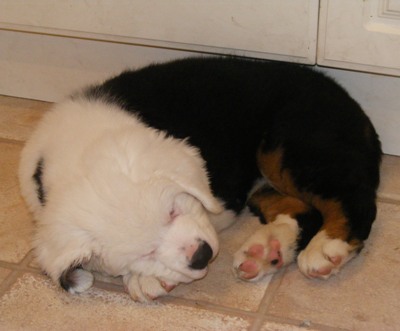 Sue bought us all a treat for when we came home. I think it's time for a nap now as its all been so exciting.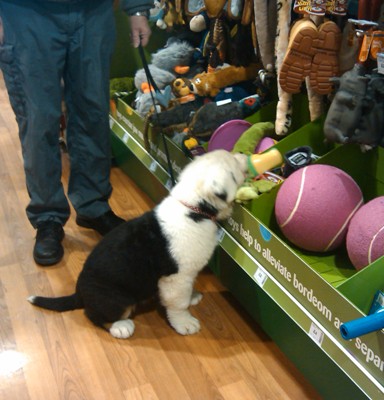 My first visit to a Pet Store - I like the look of those squeeky shoes.
I am now nearly 3 months old, today Sue and Keith took me to a big Pet Store to help with my socilisation. We met lots of people and they all wanted to say hello to me, I was very happy and I loved all the attention from the adults and children we met.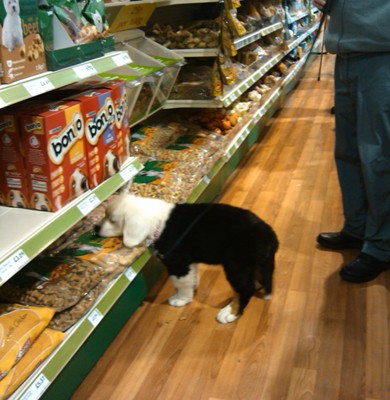 Oh! there are too many nice treats to choose from,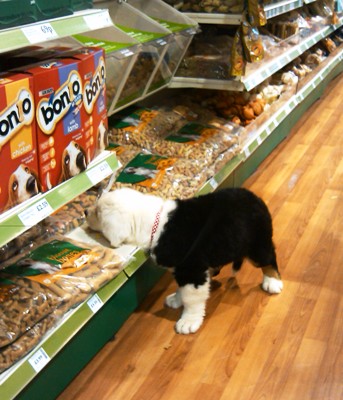 I decided on the Big Bonio's - the dog on the box is not as cute as me!
Zoe's First Snow!!!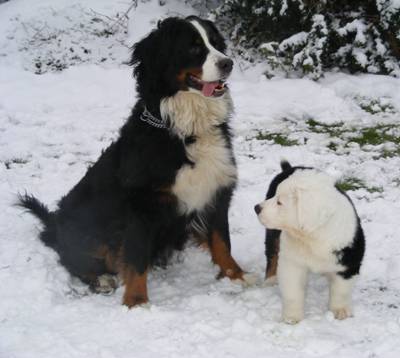 Zoe's mum Hetty introducing her to snow for the first time.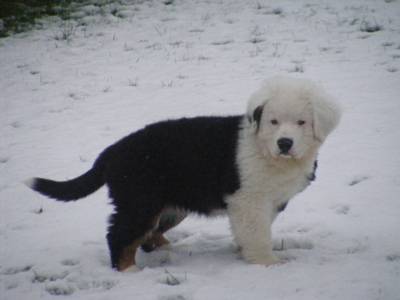 My mum said that this white stuff is snow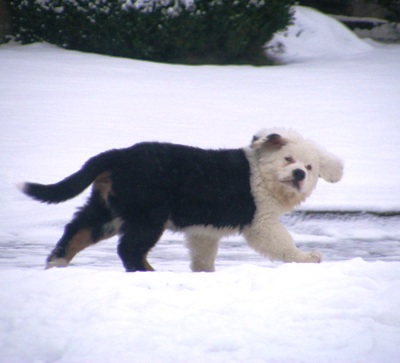 it's very cold on my feet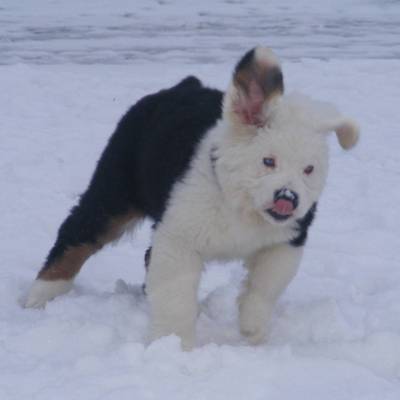 but it's great fun to run about in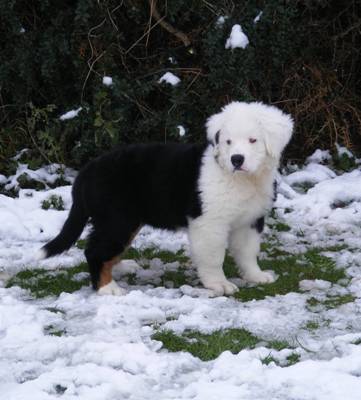 all that excitement has worn me out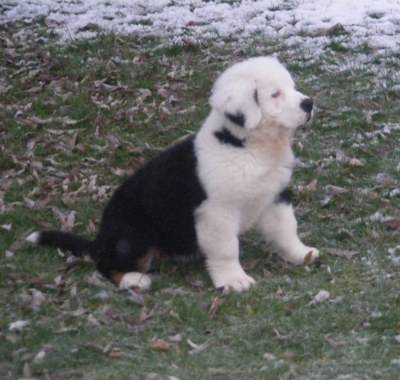 time to sit down for a rest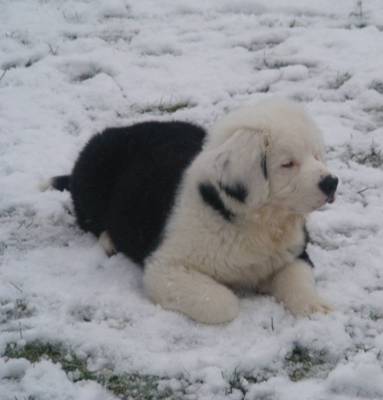 Oh! I may as well lay down it's nice and cool on my tummy!
Mum told me there is lots of snow in Norway, this is the country where my father was born.
Zoe's First Puppy Socialisation Class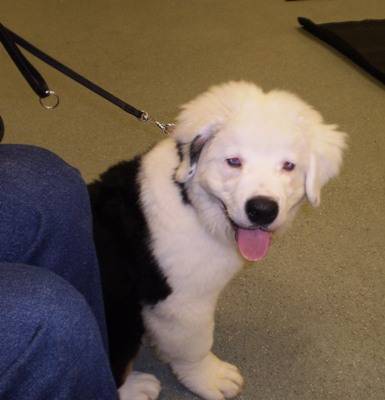 Me attending my First Puppy Socialisation Class
I am now 12 weeks old, since I was 8 weeks old I have seen lots of people and Sue and Keith have taken me to some nice places, the best so far was the Pet Shop, I had lots of attention there, the staff who worked there gave me special treats for being very good on my first visit.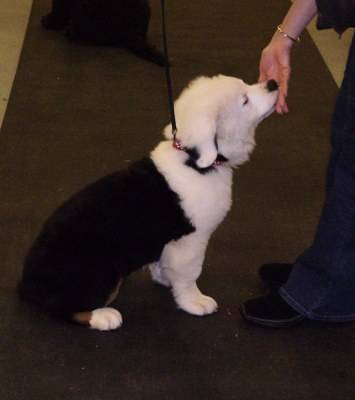 Hello Zoe you are a very pretty girl.
Now I am 12 weeks old Sue and Keith said it was time for me to start school so I can learn to be just like my mum and dad, in the first lesson all the puppies had to sit and let all the humans go round the room and say hello to all the puppies. Some of my new friends were frightened of the big humans at first, but I was good because Sue and Keith have introduced me to lots of humans, this was good because when they said hello, if the puppies were good we kept getting treats. This was all too easy for me, I think it was because Sue and Keith are training me at home, I can not wait for my next lesson.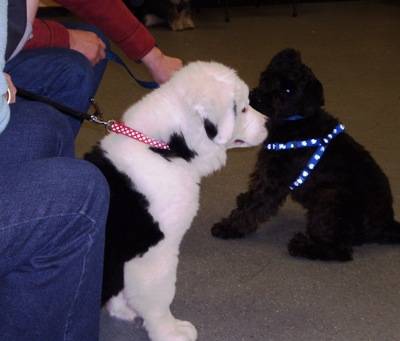 Hello Blackie, i am Zoe, this is my first time here, I am having a great time.
It is very important for us to start school as soon as we have had our first injections, the instructor said puppies learn more in their first 16 weeks than at any other time in our lives, he said when we are over 16 weeks old we still learn but not as quickly. We have be be let off our lead in the park, Sue and Keith were worried in case I ran away from them but I won't, I love them both. I am seeing lots of new people and having lots of new experiences. I think I will like it at school, I will make Sue and Keith very proud of me.
Bye to all my friends, I will talk again soon, if you would like to leave me a message leave it on the Guest book here, Jill and Ian will send me all your messages, I promise I will reply to all my friends. Love Zoe x x x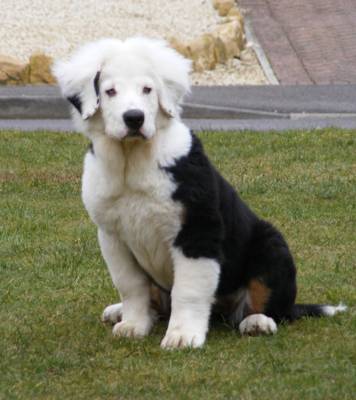 This is my latest picture. I am going to visit my dad Geilo this weekend so I hope to have my picture taken with him, which will be really cool!!
Zoe's First long car journey - I am now 4 months old
Today was a very big day for me, Sue and Keith had promised to take me out in our new van for my first long journey, so after my mum Hetty and all my other dog friends had had their walks it was time for me to get ready for my big adventure. I was going to see Jill and Ian, my father Geilo lives with them, Sue and Keith told me it will take about one and a half hours to get there, so when we were ready to go Keith lifted me into the van. I had a nice soft vet bed to curl up on, a nice bowl of refreshing water in case I was thirsty. As we were driving along Sue kept looking over her seat to make sure I was ok, she had no need to worry it was great I had a little sleep before we arrived at Jill and Ian's home. The drive seemed to pass quickly, we were there in no time at all, I must congratulate Keith, (my chauffer, he is a very good driver).
When we arrived Ian came out to meet us, we got out of the van and went to their house, when Jill saw me through the window she came running out to see me. We all went indoors, it was brilliant, on the floor there were some bones for me to play with, I had a great time playing on my own, then all their dogs came in to meet me two at a time. They were all pleased to see me, some were my half brothers and sisters, they were all nice but they were very funny, none of them looked like me, still they all cannot be perfect like me can they.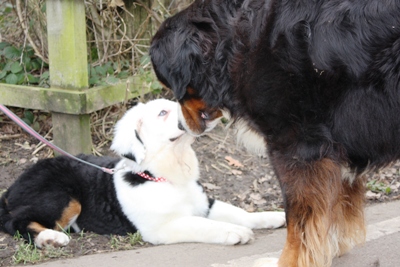 Hi Dad - I love you!!
After I had met all the dogs Nicola and Tony who live near to Ian and Jill came to see me, they said they looked at my special page all the time, they said my pictures were very nice, but seeing me was better than looking at the pictures. We all went for a short walk, my dad Geilo and half sister Freya came to, we had good fun and I had lots of pictures taken with them. Do you like the picture of me and my dad.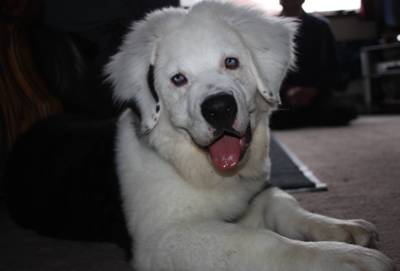 Zoe chilling out after her walk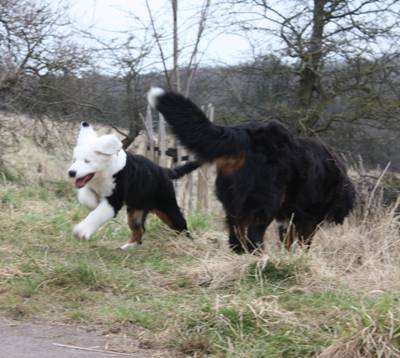 Hey! dad look at me, this is fun, bet you cann't catch me.
I am only allowed off the lead for a few minutes because I am growing very fast and Sue and Keith do not want me to have too much free excercise because it could affect my hips and things because I am growing.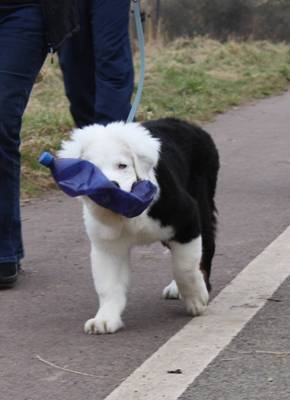 Why do people leave their old plastic bottles behind, I will be good and take it to the rubbish bin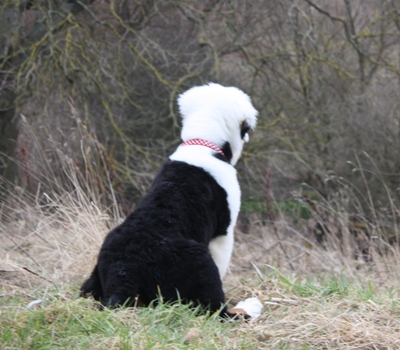 I like it here, my dad and Freya are running up the hill from the stream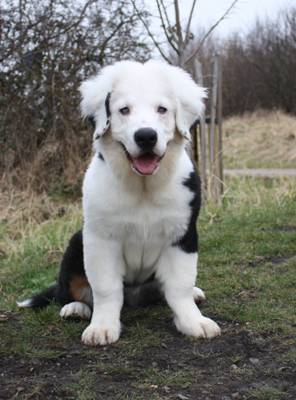 Time for a rest and more pictures, we have seen lots of people and other dogs on our walk, there was a Cocker Spaniel and two big German Shepherd Dogs, I love meeting other dogs, big ones and little ones I love them all. The people we saw all wanted to see me, they did not take much notice of my dad and Freya, must be because I am a ' cuddly puppy'.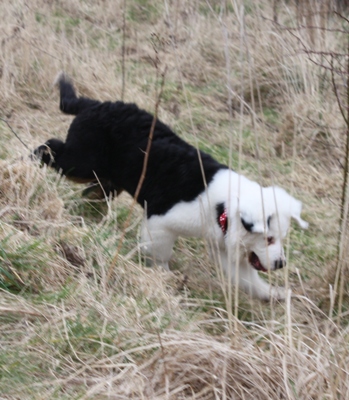 What is that I can see, it looks interesting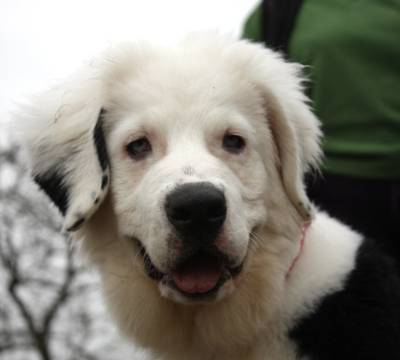 Time for more pictures, everyone thinks I am cute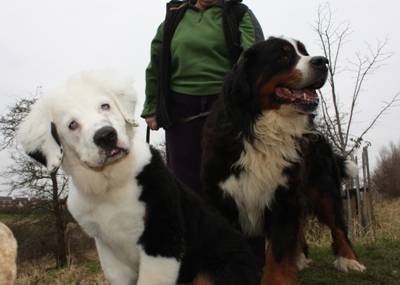 Dad, am I adopted? all my brothers and sister look nothing like me.
No Zoe, you are unique, they are common and all look the same, you are a Super Model Bernese.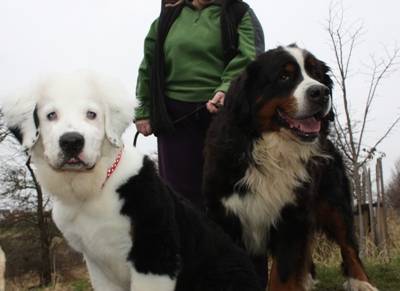 That's nice, thanks dad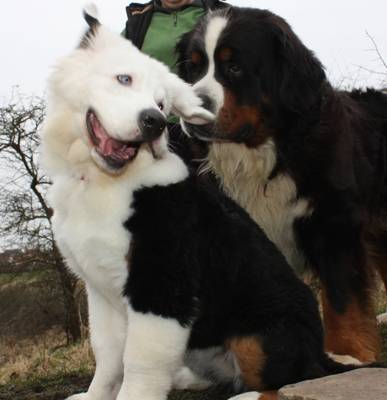 Zoe, you will always be very special to me and your mum Hetty.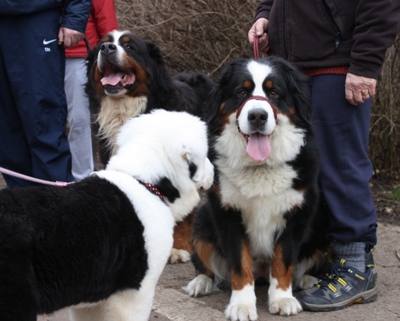 Hi I'm Zoe
On our way home from our walk we saw another Bernese, her name is Ruby, she is my half sister too, she is the sister of Johann and Jenta and also the big sister of Khono and Kheno. She lives near Jill and Ian, her owner Geoff came round on a bicycle with Ruby trotting along side, she was nice too, I have lots of family here.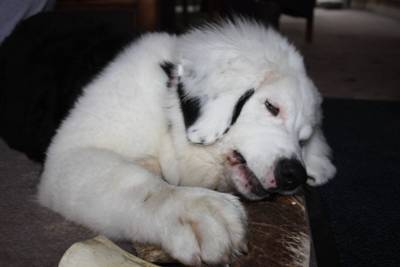 Wow! it is nice to be back in the house, it is very tiring meeting people, I am chewing a Deer's Antler here, this will be good for my teeth.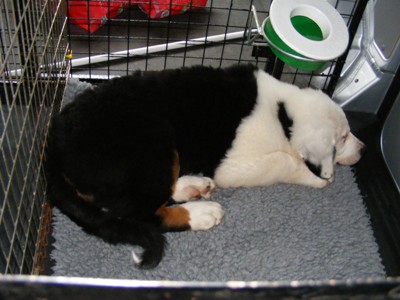 Today has been brilliant, I have had a great time, before we had to return home Ian and Jill said to Sue and Keith that if they wanted to leave me with them they could, also Nicola and Tony said the same, I am sure you can imagine the reply Sue and Keith gave them. It is now time to head home after my great adventure, it was nice to see my dad Geilo, I will look forward to coming again in a few months time, next time we visit we will bring my mum Hetty and have a picture of my with my parents.
Before I got back in the van Jill and Ian gave me a big hug and told me I had been very well behaved and they though I was very good with all the dogs and people I had met today. They said they are very proud of me and I am always welcome to visit them, they said they will visit me again and see us in the summer at carting events, I do not know what these are, but I think they will be good fun, as long as there are lots of people there and all those very common and strange looking tri coloured Bernese I will be a happy girl. Love Zoe xxxxxx