Elkie - A Tribute
Tiggerifik Lady in Red at Staubach
"Elkie"
Died 15th January 2013
Elkie came into the Staubach house due to a twist of fate. We had wanted puppies off Geilo before we let anybody else use him at stud. It seemed that it would never happen. We decided that we would have to let somebody use him first and agreed to Graham & Pauline Mcallister using him with Elkie's mother Torralbaz First Foot. A couple of weeks after this, we mated Geilo to our Madi daughter Staubach Forever and Always "Jorka" Unfortunately, although Jorka carried the puppies full term we lost the litter of five, shortly after they were born, a lot of tests were carried out, but we never discovered the reason why they died.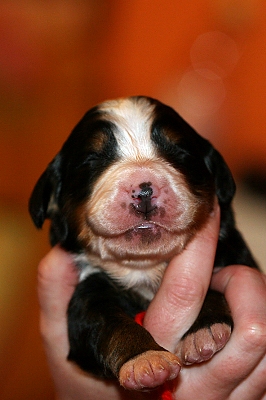 Elkie 4 days old
We of course knew that Graham & Pauline now had Geilos first litter and we contacted them to see if there was a female available, they were keeping one and said that they would email us a photograph of the other puppy.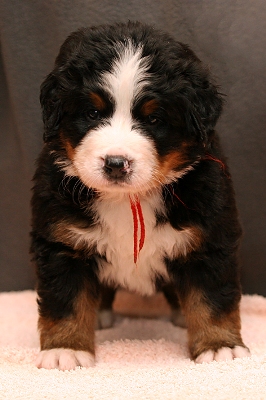 When Graham & Pauline emailed us this picture of Elkie when she was 4 weeks old and I said to Ian ring them and tell them we will have her.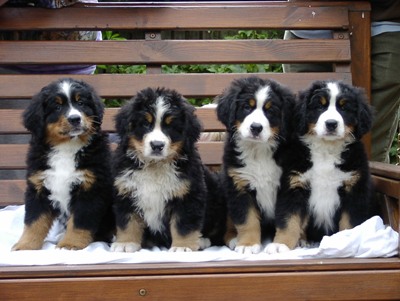 We went to see her at 7 weeks old and went back the next week to pick her up Elkie is on the right.
We went to pick her up in the van and to make sure she travelled home safely, we took a carry case with us for her, she soon let us know what she thought of it and ended up sleeping in the front of the van.....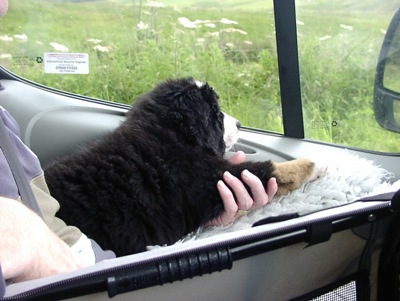 When we arrived home she didn' t take long to make herself at home on the garden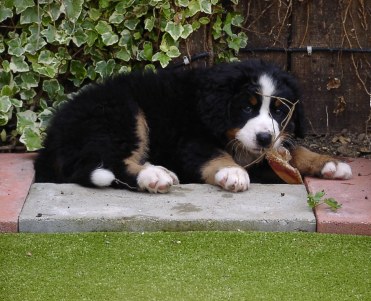 To be continued.....