September 2013
6th September: Today is a very special day for us, we celebrate the 9th Birthday of our beloved Geilo. We can remember as though it was yesterday flying to Norway to visit Geilo's breeders Line and Stig where we saw Geilo for the first time when he was 6 weeks old. We had a wonderful weekend staying with Line and Stig on their Dairy Farm. We were delighted when we were told we were approved for one of their puppies, it was very difficult for us to return home without him. We made our next visit to Norway to see Geilo when he was 6 months old, this visit was in the height of the hard Norwegian winter. If you have seen our painting of Geilo this was done from a photograph we took on the farm in all the deep snow. We were able to take Geilo for a walk over the fields of the farm, Line and Stig took us out sight seeing, we went to the Winter Olympic Ski Jump Centre at Lillihammer. We returned to collect Geilo and bring him home to England when he was ten months old due to the Rabies laws in the UK at that time.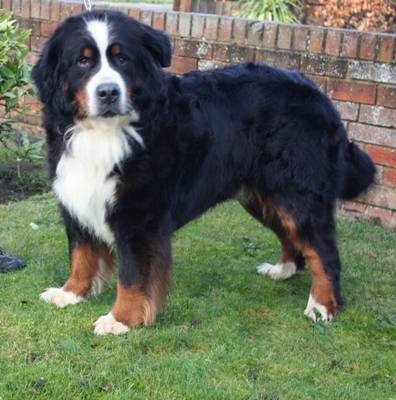 Geilo - Summer 2012
From the moment we went to collect Geilo he been our constant companion, an absolute pleasure and joy to share our lives with. A few weeks after he came to England he had his assessment to become a Therapy Dog, this he passed with flying colours. Over the years we have shown Geilo with some good results, in 2010 he and his daughter Elkie were Best Pair at the KBS Club Show in Switzerland, a result no other UK breeder or exhibitor has attained. We have shown Geilo successfully in many Continental Countries(see results page).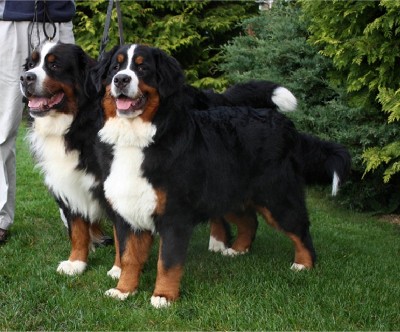 Geilo and his son Johann (Staubach Johann von der Wald)
We love to take Geilo and our dogs on holidays with us, traveling to many beautiful countries with them. Also since the age of one year Geilo has been an approved Therapy Dog, he currently works with Special Needs Children and also visits hospitals, schools, care homes for the elderly etc. he is a great ambassador for his breed. He has the most wonderful temperament and character, he is not only loved and adored by us but also by the many children he works with or has worked with over the last 8 years. He has a fantastic ability when working with children, he brings out the best in them.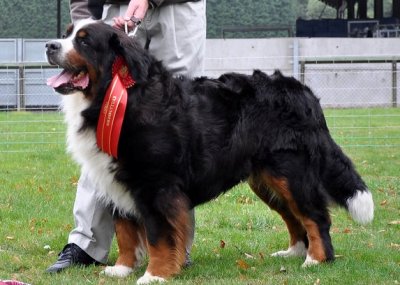 Geilo Winner of Limit Class at the BMDC of Scotland Championship Show 2011
He has also sired some great puppies who appear to have his outstanding Character and Temperement. We could write all day about our gorgeous boy, he has given us some nice puppies from our two litters. We thank Line and Stig for our "Gorgeous Geilo". Big Birthday hugs from Mam, Dad, all your school friends, and all your Bernese Friends here at Staubach and overseas.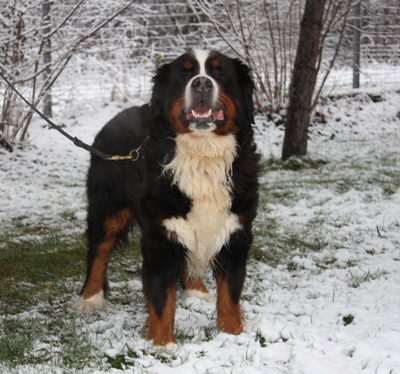 Geilo - Winter 2012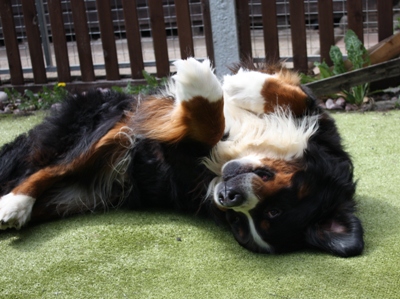 Geilo, 9 years old - Summer 2013