December 2013
31st December 2013 - The puppies are 3 weeks old today and growing so fast, for more pictures see week 4 on Litter December 2013.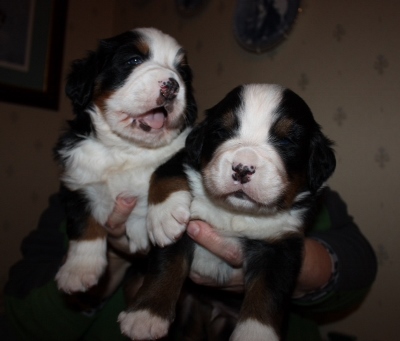 3 weeks old today
27th December 2013 - Thanks to Pat, Majella and Amy for this picture of Odin, who is from Steffi's and Geilo's first litter, not so sure about the pyjamas though!!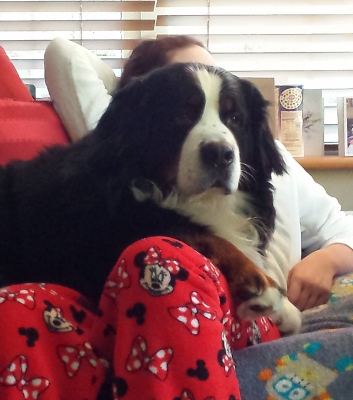 Odin - 2.9 years old
25th December 2013 - Thanks to Mel, David and Rafferty for this lovely photograph of Dexter with his family. Dexter is a Geilo son from litter 6 and he was 4 years old in September 2013.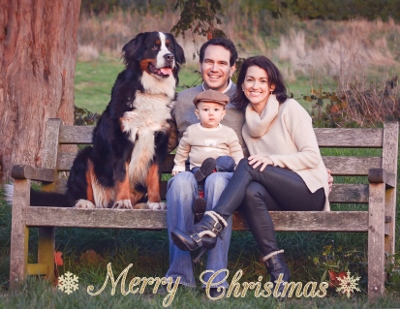 Dexter and family
24th December 2013 - Katie and Geilos puppies are 2 weeks old today, for more pictures see litter December 2013, week 3. We love this picture, the boy looks as if he is singing!!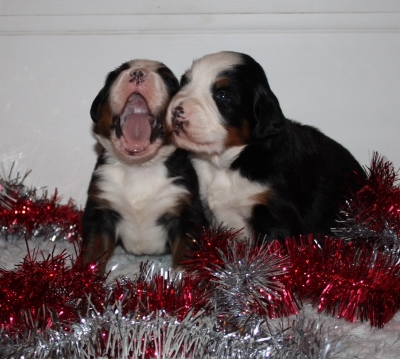 "We wish you a Merry Christmas and a Happy New Year"
24th December 2013 - The final day of the advent Calendar leaves us with just one dog, Geilo. What can we say about Geilo, he is the once in a lifetime Bernese that you dream about. He has a fantastic temperament, and is a wonderful therapy dog. He has made a lot of people very happy, with the puppies he has sired, although we do appreciate that it takes two Bernese to produce a litter. He loves carting, which is something he was introduced to quite late in his development. We have shown him in England and Europe. It is no secret that he has been more successful when we have shown him abroad, his qualities have never been fully appreciated here in England. He is a very easy dog to live with, just happy to do whatever you ask him to, go with you wherever you go, he has travelled all over Europe with us to dog shows on holiday and wherever he goes, people fall in love with him. He came to us when he was 10 months old and it has been a pleasure to share our lives with him for the past 8 years, long may it continue. Thanks to his breeders Line & Stig for entrusting this wonderful boy to our care.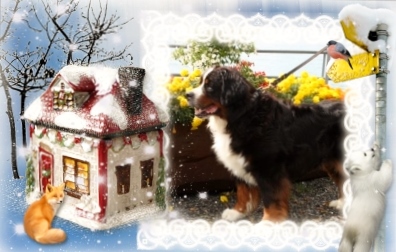 Geilo on holiday with us earlier this year at Lake Brienz in Switzerland
23rd December 2013 - In July this year Dijana became the latest addition to the Staubach household. We imported her from Slovakia, the main reason being that she is bred from Dale Gudbrand's Norway Dream who is a beautiful dog and Geilo's litter sister Chimney was his mother. At just 9 months she is too young to be assessed ast the moment as a therapy dog, but we are sure that when the time comes she will be a brilliant therapy dog. We showed her in Italy as a baby puppy and she received a favourable critique and graded very promising, which is the highest grade a baby puppy can be given at FCI shows. It was the first time that we have shown her and she was very well behaved considering she had a long journey and experienced hotel rooms for the first time, she loved getting onto the beds and once on there took some persuasion to leave the comfort of them!! She has a lot of character and is very loving.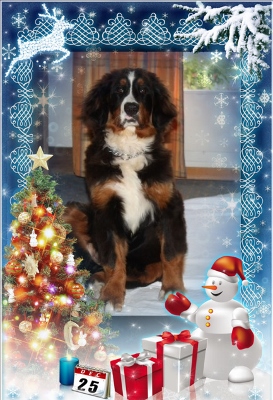 DiJana
22nd December 2013 - Kheno was the boy we kept from Steffi and Geilo's 2nd litter. Kheno has a fantastic temperament, he is a brilliant therapy dog, almost as good as Madi was. The children take him a walk around the school, they cover him with blankets and he just lays there and enjoys it, he takes treats very gently from behind their ears and between their toes and he at the end of the sessions sits and waits patiently for his apple!! The children love him and he loves being with them. He is also learning to cart, he has been to a couple of events with his dad Geilo.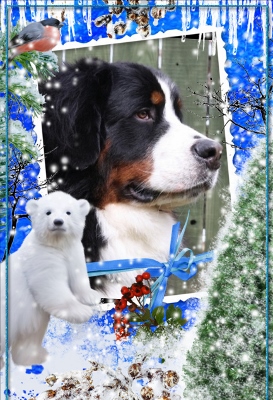 Kheno
21st December 2013 - We then kept two puppies from Steffi's next litter Khono and Kheno. Khono will be 2 in February next year. She is not registered as a therapy dog as yet, however we will have assessed next year.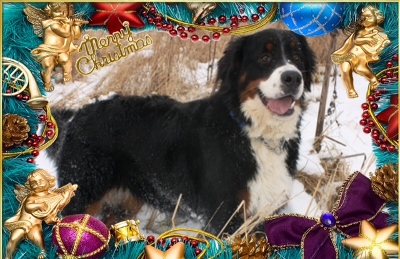 Khono 12 months old
19th December 2013 - Our next dog is our beautiful girl Katie del Lago di Tenno our Italian import. Katie has a wonderful temperament, very loving to everybody she meets, but especially with children. Katie is a qualified therapy dog and we have a litter of puppies from her that were born earlier this month to our wonderful male Geilo. She has two puppies, 1 boy, 1 girl and Katie is a fantastic mother, she will be 3 years old in January. For pictures of her litter see Our Litter December 2013.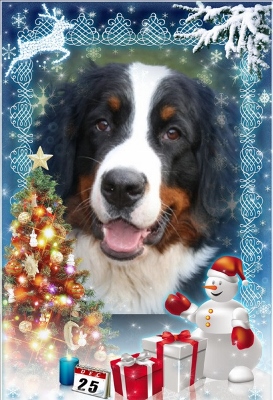 Thanks to Silvana for letting us have our beautiful Katie
18th December 2013 - Our next two puppies are Johann and Jenta, litter brother and sister from Steffi's first litter. Jenta is a qualified therapy dog, but she hasn't done much work as she is like her mother, in that she does not enjoy travelling in the van. We hope to have a litter from her in 2014.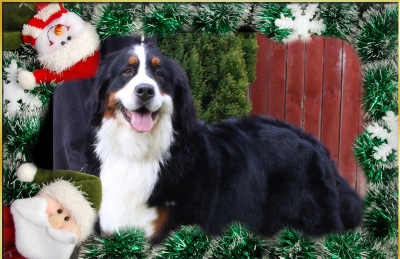 Jenta
Johann is Jenta's litter brother and he is not yet a qualified therapy dog. He is very much like Janka was, in that he is too lively to be a therapy dog at the moment, he is still like a big puppy and needs to mature before being assessed. Johann will be three in March 2014 and he has just sired his first litter.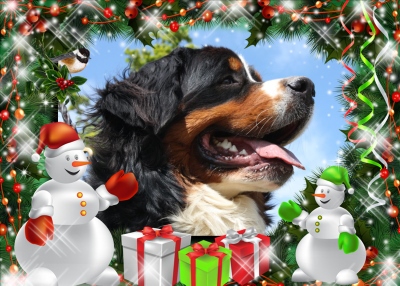 Johann
17th December 2013 - Freya was our next girl another beautiful Geilo daughter bred from a Kinelarty female. Freya is also a qualified therapy dog. She is 3 years old and we haven't had a litter from her yet, but hope to do so in 2014.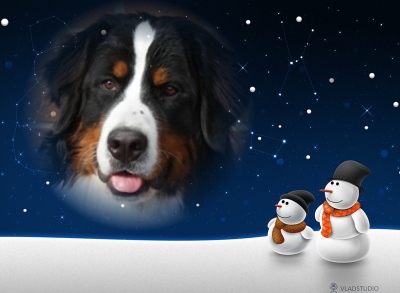 Freya
17th December 2013 - The puppies are 1 week old today.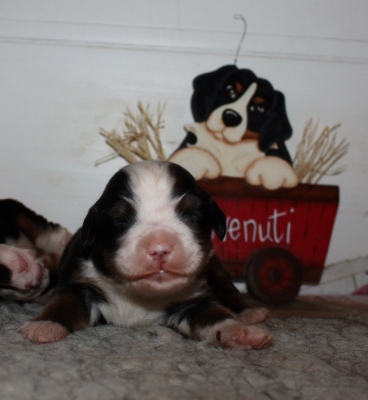 Female puppy - Geilo and Katie
16th December 2013 - Steffi - Gwen-Stefani von Bernice Love at Staubach (FCI - Ger Imp), was our next import. Steffi hasn't been shown in the UK, only in Germany, however showing a dog is of the least importance to us. However she is a qualified therapy dog. We have had two beautiful litters from Steffi to our Norwegian import Geilo.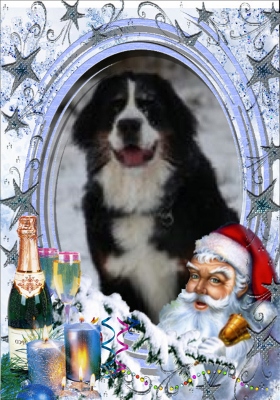 Gwen-Stefani von Bernice Love at Staubach
15th December 2013 Our next dog was actually Geilo, but more about him at a later date. Elkie a beautiful Geilo daughter from his very first litter was our next girl. We had intended to keep a puppy from Jorka's litter, but of course she lost them. A couple of weeks earlier Geilo had sired his first litter and as we were so disappointed to lose Jorkas litter, we contacted the people who had used Geilo to see if there was a puppy available. They sent us a picture of Elkie and we said straight away " we will have her"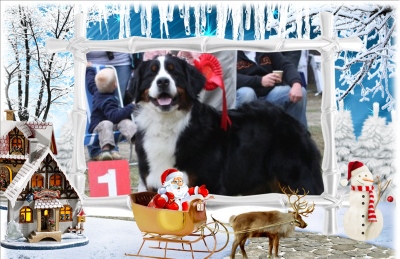 Elkie, a wonderful girl
Elkie was a wonderful girl, she was a therapy dog and also did very well when we showed her abroad, both individually and when we showed her with her father Geilo as a couple, sadly we lost her just after Christmas last year, she was 5.5 years old.
Dale Gudbrand's Janka CaCh was our next imported female from Norway, she was from Geilos beautiful sister Chimney. Janka had a wonderful temperament, but unfortunately we didn't show her, she would have just rolled over on her back wanting her tummy rubbing, nor was she a therapy dog. She loved people, but she was far too lively to be a therapy dog!! Again we lost Janka at far too young an age, she was just over 4 and this time we lost a dog just before Christmas.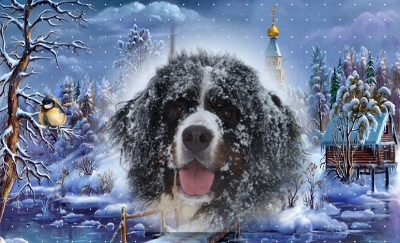 Janka, a very special girl
14th December 2013 - Jorka was our next puppy. We kept her from Madi's last litter, there were three in the litter and unfortunately, we lost 2 of them, and struggled to keep Jorka alive as Madi was quite ill for 2 weeks after she had the puppies, she wouldn't eat at all, so Jorka was going nowhere. We eventually had 2 litters of pups from Jorka, but we lost both litters after she had carried them full term. Jorka herself was only 4 yeas old when we lost her.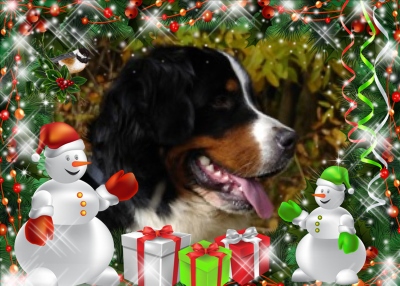 Jorka - Staubach Forever and Always
Uschi was next, we got her from France, she was a beautiful girl and again her temperament meant that she was a wonderful Therapy dog. Her birthday was an easy one to remember, she was born on 03/03/03 and her hip score was also 3/3. We didn't manage to have a litter of puppies from her as she developed a pyametra and we had to have her speyed. She died quite sudddenly whilst Ian was away in Italy, a couple of weeks short of her 8th Birthday.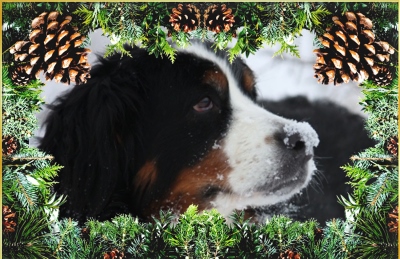 Uschi des Roches du Mettey at Staubach
13th December 2013 - see new pictures on litter December 2013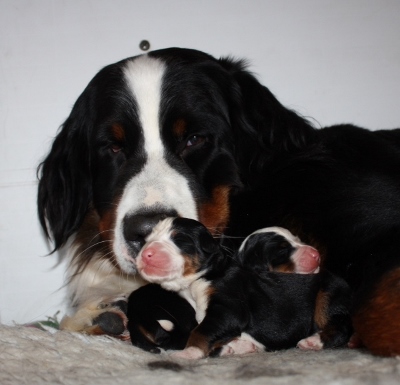 Katie with her two puppies 2 days old
12th December 2013 - Continuing our Christmas advent Calendar, our next dog which was between Jodi and Casji, was our wonderful beautiful girl Pia. Pia also was a wonderful PAT dog, starting at a very early age, she loved visiting people. However, her PAT dog days were cut short when she went blind when she was about 2 years old. The first eye that she lost was due to a detached retina, which cannot be repaired in dogs. She then lost the sight in her other eye due to a complication with a cataract, something that Bernese do not generally suffer with. When she lost the sight in both eyes, we were given three options, one of which was having her put to sleep, which for us wasn't an option. She had a very happy life even though she was blind and lived until just short of her 10th birthday.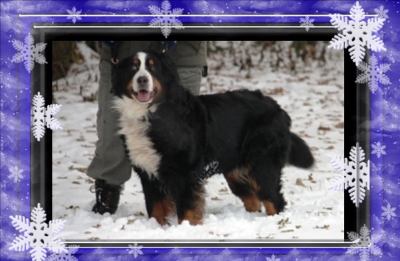 Pia- our Princess

11th December 2013 - We are delighted to report that Katie, Katie del Lago di Tenno (FCI - Italy Imp), gave birth to 2 puppies, 1 female born on the 9th December and 1 male born on the 10th December. The father is Dale Gudbrand's C-Geilo Za-La at Staubach, our Norwegian import. The puppies are doing well and Katie is a wonderful mother. For more information and photographs of how the litter progress see Litter Dec 2013. Also under Geilos litters.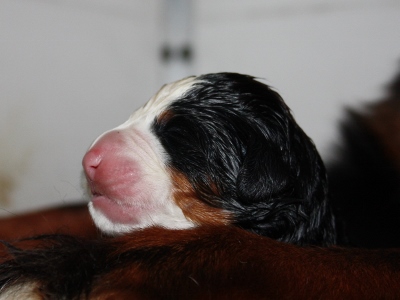 I'm here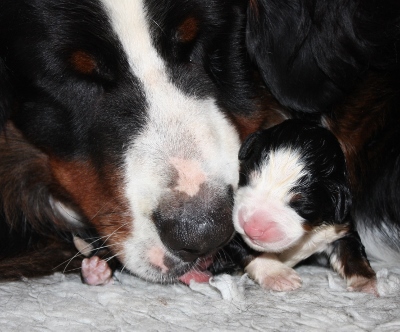 My Mam and me
9th December 2013 8 years ago we had two litters, one was born on the 9th to our first imported girl Casji and she had 6 puppies, as far as we know there is only 1 that will be celebrating her 8th Birthday today, Heidi. Her brother, Barney may still be alive, but we haven't heard from his owners for a long time.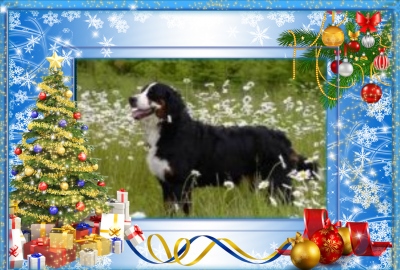 Casji - Casjimira van't Beertjes Hof of Staubach
The second litter was born 2 days later to Jodi, who we kept out of Madi's 1st litter. Jodi had 6 puppies, but only 2, Delilah and Misha survived. Misha is still alive and celegbrates her 8th birthday as well. We only had 1 litter from Jodi, much to our regret, as she was a ebautiful girl, with a fantastic temperament, although she wasn't too keen on men, apart from her pal Lol who used to live behind us at the farm!! At 6 months she was assessed to become a therapy dog and was the youngest ever, the rules have now changed for the assessment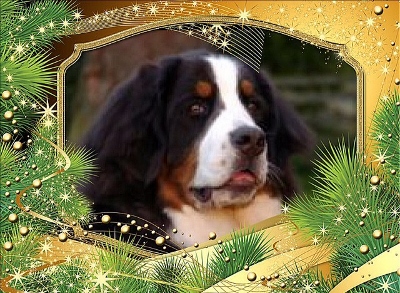 Staubach Jodi - a gorgeous girl
5th December 2013 - From our very first litter of puppies, we kept a girl, Madi and a boy Heiko. Madi wasn't a show girl, but she was the most wonderful girl you could have ever wished for. She was a therapy dog from the age of 2 and continued to go to school right up until about a month before she died in December 3 years ago. She used to love to be with the kids and even now some of the children she used to spend time with still ask about her.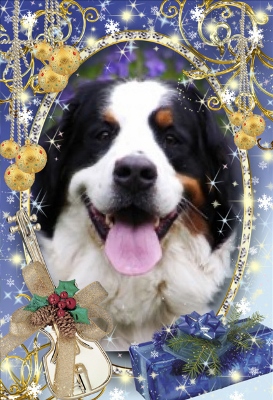 Our beautiful never to be forgotton Madi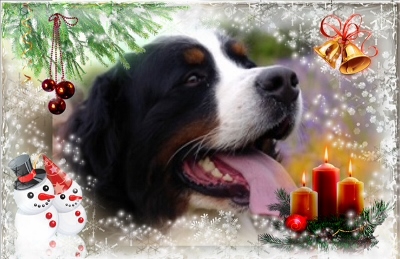 Madi's litter brother Heiko, such a gentle boy
Heiko was Madi's litter brother and like her he was a very gentle boy and also a therapy dog. We had one litter of 3 pups from him to our Belgium import Cassie.
4th December 2013 - We are going to make December like an advent Calendar, with a picture of each of the Bernese that we have owned over the years. We started the month off with Oska, our first Bernese, the next picture is of Tascha our first female Bernese, she was a very gentle girl and gave us our first litter of 8 Bernese, of which we kept Madi and Heiko, who will be the next 2 pictures. She had a further litter of 3 puppies.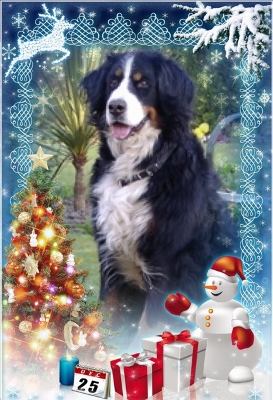 Tascha our first Bernese girl - a very sweet gentle girl
2nd December 2013 - 2nd December 1994, 19 years ago was when it all started with Bernese for us, that was the day our very first Bernese Oska was born. If it hadn't have been for Oska, we may not have had Bernese today. Oska was the love of our lives and a wonderful example of the breed. We still remember some of the things that he used to do that made us laugh. Today we rembember him on what would have been his 19th birthday.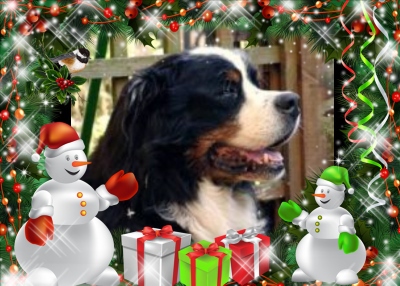 Oska - Tregairn Oscar at Staubach our wonderful 1st Bernese
1st December 2013 Caught up with the gorgeous Zoe and her Mum yesterday.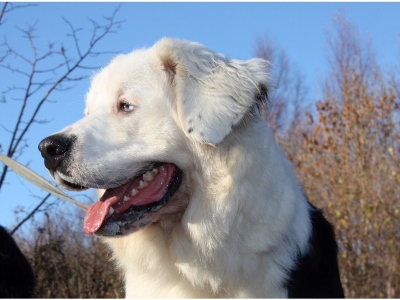 Zoe - 1 year old November 2nd 2013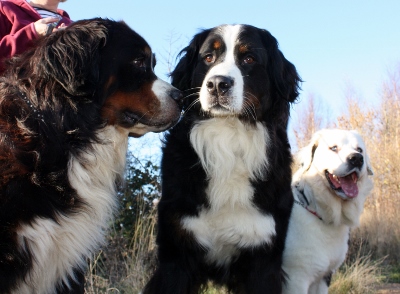 Zoe's mum and dad, Geilo and Hetty
We also went to see Johann's first litter who are now 6 weeks old.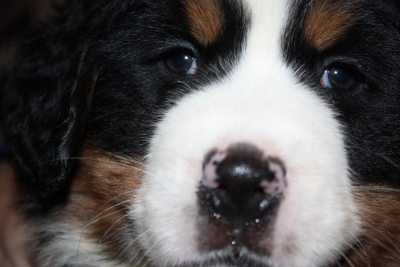 Red girl 6 weeks old
See Johann's litter page for more pictures.