June 2014

21st June 2014 - Friday the 13th wasa lucky day in the Staubach house, it was the day we discovered much to our surprise and delight, that our beautiful Freya was pregnant. We had mated her to Johann.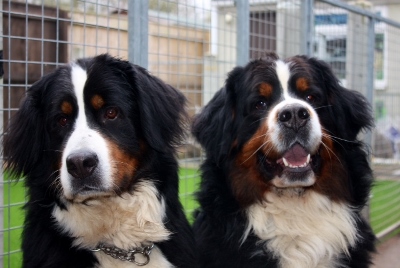 An even bigger surprise, was that they were due in 5 days time!! We hadn't bothered getting her scanned, as we had mated her 3 times previously without success, and had resigned ourselves to never having any puppies from her. They arrived on time on the 18th June 2014. I went out to work and said, ring me if you need me to come home. I had only been gone 2 minutes when my phone rang and Ian said "you had better come back, she is having contractions!!". I turned around and went back in the house and thought "that sounds like a puppy" She had her first puppy, a male.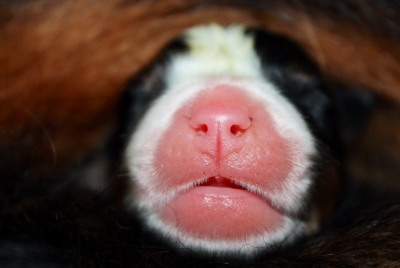 She then gave birth to another male and two girls within the hour.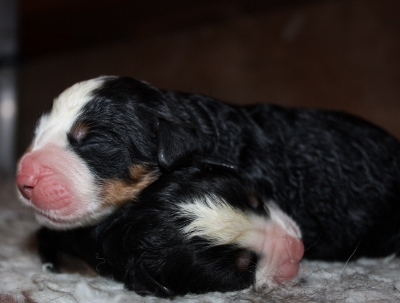 No more contractions for an hour and a half, as we hadn't had her scanned we didn't know how many there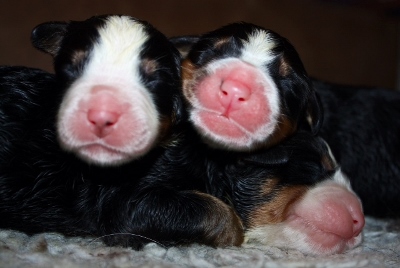 were, so a trip to the vets. We had only driven about 100 yards, when puppy number 5, a male was born in the van. They always say a car journey is needed. So we continued to the vets, they examined her said the birth canal was clear, but it was difficult to tell if there were any more, but if there were, they would no doubt be born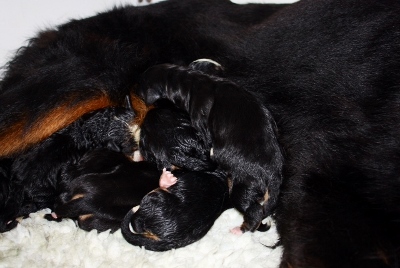 either on the way home or shortly after. So Freya settled down with her five puppies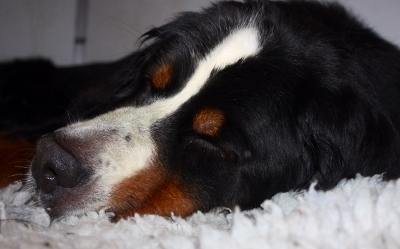 and went to sleep. Some five hours later, she gave birth to another girl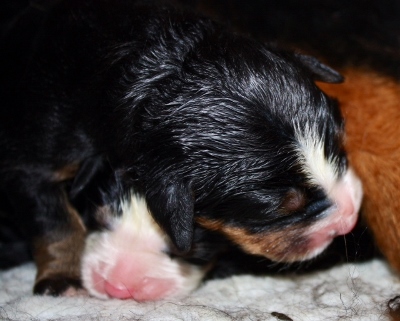 followed very quickly by another girl. So we have 4 girls and three boys and we are over the moon!!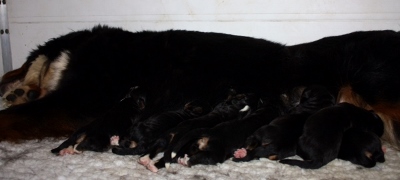 This is a good milk bar, 4.00am in the morning and the staff serve you whilst they sleep.
To the Follow the litter see Litter June 2014 for weekly pictures of their journey through life.

1st June 2014 - Today we went to our first show in England for a very long time. Ian hasn't been able to run the dogs properly, since his operation. We have been wanting to show Johann for some time. He was shown twice as a puppy, winning his class on both occasions and qualifying for Crufts. We did show him at Crufts, but he is very much like his dad Geilo, in that he has been slow to mature. However, he is now three and we decided the time was right to start and show him again. Somebody recommended a very good handler to us and we approached her and she agreed to show him for us. He has been to ring craft classes with her for the last 4 weeks and we decided to start off with him at a couple of Open shows to gain some experience and get to know his handler Jayne Clegram. We took him to Ripon Open Show today, where he behaved impeccably.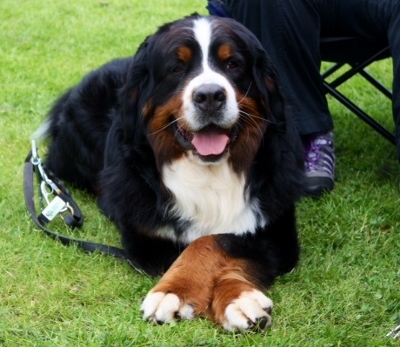 Johann relaxing before his turn in the ring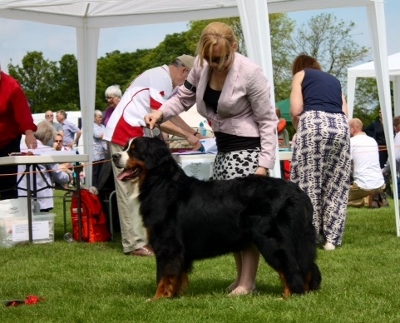 much to our delight, he won his class, A.V.N.S.C as there wasn't a seperate classs for the Bernese, but there was another Bernese in the Class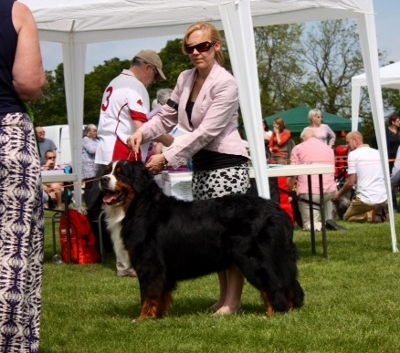 he then went onto win Best A.V.N.S.C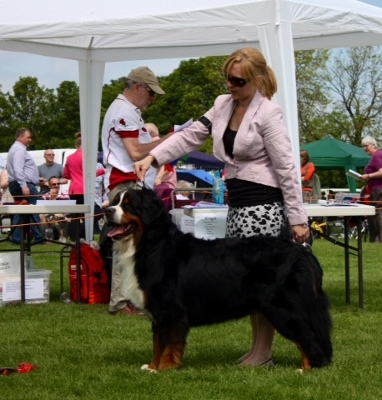 and then to our delight went Group 4, in a very strong Working group line up of 11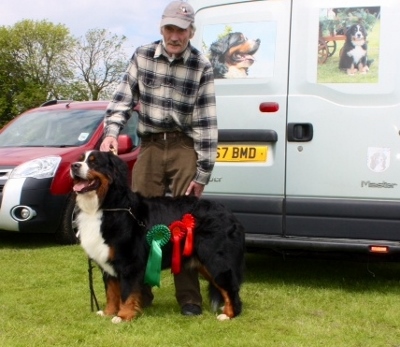 Thanks to Jayne for having faith in her "new project" and her superb handling of our
special Geilo son.