Madi - Therapy Dog
Madi - Staubach Blaue Wasser Falle
Our female Madi (Staubach Blaue Wasser Falle) had worked as a Therapy dog for 9.5 years, she was one year old when she started her visits to a local Residential Care Home, she has also made visits to a local hospital visiting patients in Stroke units and elderly care units. However Madi's first love had always been working with children, she visited a Special Needs School two half days each week and also a local Ecology Centre that caters for children of all ages and needs. In early November 2009 at almost 10.5 years old we decided to retire Madi from her therapy work, after 9 years visiting she had been a great therapy dog and ambasador for our wonderful breed. Our visits at school and the Ecology centre would now be done by our other therapy dogs. Sadly on December 16th 2009 at the age of 10.5 years we had to make the decision to give Madi sleep, this was not easy for us as she born in our very first litter and was our constant companion.
A few years ago the school we visit nominated Madi for a National Award for Therapy Dog of the Year, here is a copy of her nomination letter from the teacher at the school we visit.
OUR FRIEND MADI (Bernese Mountain Dog)
Madi works with a group of students, who have physical and complex learning difficulties. These children communicate using non verbal means such as gesture, eye pointing, touching. Some of the children have hearing and/or visual impairments, one girl is registered blind. Madi and her friend Ian have become regular visitors not only to our class, but also her popularity has taken her into other areas of the school. Madi's presence in the classroom can bring an immediate sense of calm. Her closeness and persistence can relax children who are feeling unhappy. She instictively approaches "those individuals in need" and is undeterred by the individual's initial uncooperative nature. It's wonderful to watch her "work her magic".
A few children within this class are frightened to explore anything within their immediate environment, often termed tactile selective. The need to be aware and the ability to interact with people is a precursor to learning. Madi can support this very important target. The children can hear her panting, feel the breeze when she wags her tail and feel her lovely soft fur. With one child in particular, it has encouraged him to vocalise, good attempts have been made to say her name, his pleasure in his own achievements are obvious.
Finally, and in my opinion, one of the most important benefits, she can bring fun and happiness to the group.
For this I would like to nominate her for "P.A.T. Dog of the Year"
By: Lynne Baugley (Teacher)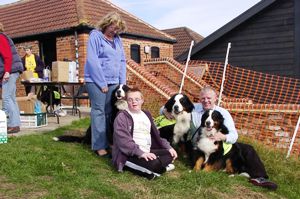 Madi and Uschi with their friend Ian and his dog Tia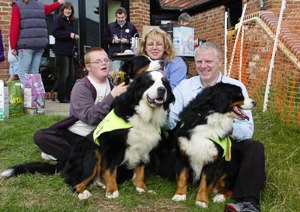 Ian's Bernese Tia is Madi's niece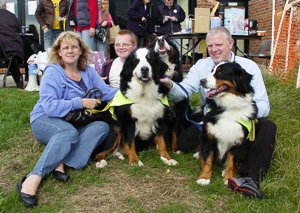 Madi and Uschi with Ian and his mam Claire and dad Michael
and their bernese Tia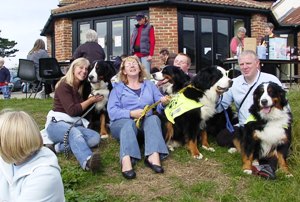 Misha, Jodi's Daughter, Tia, Madi & Uschi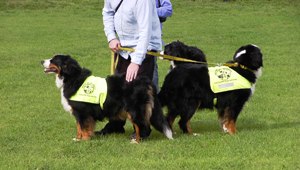 Uschi and Madi - where have they all gone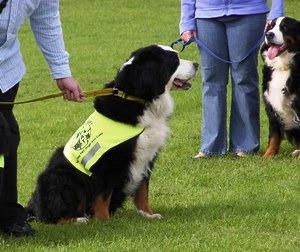 Madi - 8 years old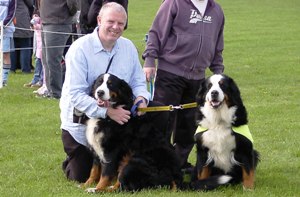 Michael with Tia and Madi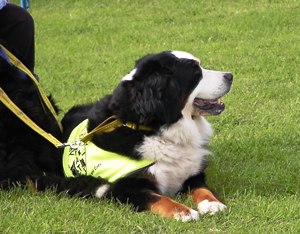 At the end of the day !!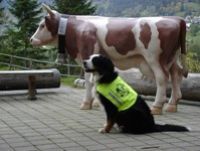 Madi in Switzerland 2008